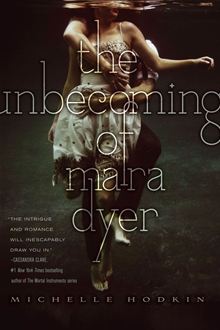 The Unbecoming of Mara Dyer
By Michelle Hodkin Series:
Mara Dyer #1
Source
Purchased
Published by
Simon & Schuster Books for Young Readers
on September 27, 2011
Rating:

Mara Dyer believes life can't get any stranger than waking up in a hospital with no memory of how she got there.

It can.

She believes there must be more to the accident she can't remember that killed her friends and left her strangely unharmed.

There is.

She doesn't believe that after everything she's been through, she can fall in love.

She's wrong.
This is another one that's been on my TBR for some time. I finally bought the e-book and read it in a couple of days.
I have mixed feelings about this book. I really liked a lot of it, but my enjoyment dwindled towards the end.
I loved the premise: Mara wakes up in a hospital bed with no memories of how she got there, or of the accident that killed her friends. Her family moves and she attends a new school, and begins having nightmares and hallucinations about her dead friends. I couldn't wait to learn what really happened the night of the accident and whether Mara was being haunted or hallucinating.
Eventually, Mara becomes friends with Jamie, a boy at her fancy new private school who is a bit of an outcast, but she has a hard time fitting in, particularly when she can't stop having hallucinations. Then she meets Noah – apparently the most gorgeous, desirable, unattainable boy in the school, and when he begins paying attention to her, Mara incurs the wrath of Anna, the school's resident 'mean girl'.
I suppose this is where things started to fall apart for me. I am so not a fan of 'instalove' in novels, and despite Mara and Noah's sometimes-funny back and forth banter and her efforts to convince him that she isn't interested in him, I just didn't buy her instant obsession with him. I rolled my eyes every time I read about Mara describing Noah's perfectly unperfect hair, clothes, his British accent, the muscles in his arms…for a much better post that hits on a lot of my issues with the romance in this book, read Wendy Darling's Goodreads review (BUT BEWARE OF SPOILERS). I don't agree with everything in that review, but I do agree with much of what she says about Noah and Mara's relationship, especially the wish fulfillment aspect.
I really wanted to read a story about Mara's accident, memories, her abilities, and unravel a mystery, but by the end of the book, I just felt that everything I liked about the book's premise was pushed aside to make room for Noah, and it was so frustrating.
However, I liked Mara. She was funny, snarky, and quite often just seemed to be a regular teenager (you know, besides all the weird stuff that was happening in her life). I liked her brothers, I liked Jamie, and at times was charmed by Noah (although most of the time, I wanted to smack him). I liked the book's premise enough that I will read its sequel, The Evolution of Mara Dyer.
Oh, did I mention that this book ended on a cliffhanger (for me, at least)? Grr. It was a pretty big bombshell, in my opinion, and of course I'm going to read the sequel, but it bothered me because this bombshell had so much to do with the aspects of this book that I was interested in the most, and that I felt were largely pushed aside to make way for the romance aspect, and then BOOM here's something that I'm interested in and want to know all about and then the book is over. I have to admit, though, that without that final reveal, I don't know if I'd have been tempted to pick up the sequel, so if the point of the final reveal was to make sure that readers continue with the next book in this series, it has succeeded in my case.
Overall, if you are a YA romance fan, I recommend this because at times this book seemed to be more about the romance aspect than anything else. If, like me, you are less of a romance fan, you may wish to steer clear. And now I will wait for The  Evolution of Mara Dyer from the library…I have to know what happens next, no matter how much the ending frustrates me.