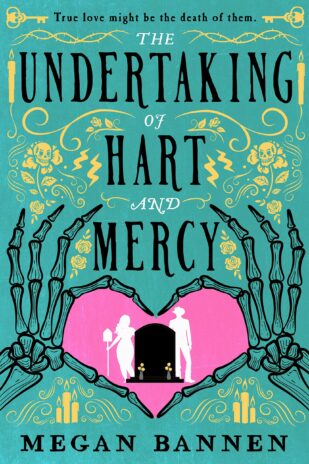 The Undertaking of Hart and Mercy
By Megan Bannen Series:
The Undertaking of Hart and Mercy #1
Source
Purchased
Published by
Orbit
on August 23, 2022
Rating:

Hart is a marshal, tasked with patrolling the strange and magical wilds of Tanria. It's an unforgiving job, and Hart's got nothing but time to ponder his loneliness.

Mercy never has a moment to herself. She's been single-handedly keeping Birdsall & Son Undertakers afloat in defiance of sullen jerks like Hart, who seems to have a gift for showing up right when her patience is thinnest.

After yet another exasperating run-in with Mercy, Hart finds himself penning a letter addressed simply to "A Friend". Much to his surprise, an anonymous letter comes back in return, and a tentative friendship is born.

If only Hart knew he's been baring his soul to the person who infuriates him most – Mercy. As the dangers from Tanria grow closer, so do the unlikely correspondents. But can their blossoming romance survive the fated discovery that their pen pals are their worst nightmares – each other?
I wish I could remember how this book came to be on my radar, because it was on my Kobo for months before I decided to read it. But I can't recall how I heard about it this in the first place.
I really loved the world. This was a fantasy world with some really interesting magical elements, and I particularly enjoyed reading about Hart's job as a marshal, and and Mercy's work as an undertaker.
But there a lot of times where I felt like the world could have used some more explanation (eg. talking about auto ducks with no real explanation of what they were and I could piece it together from context, but there were frequently moments where I thought I'd missed some sort of explanation, which was a little frustrating).
I really loved Hart and Mercy as characters, and the romance! It was kind of swoony and the letters they wrote to each other were so sweet. And there were several times where I expected the story to go a certain direction, or the characters to act a certain way, and then was pleasantly surprised when it/they did something I didn't expect.
Overall I loved this, and while it felt a bit too long by the end for me, I definitely recommend this if you are looking for a sweet romantasy read!