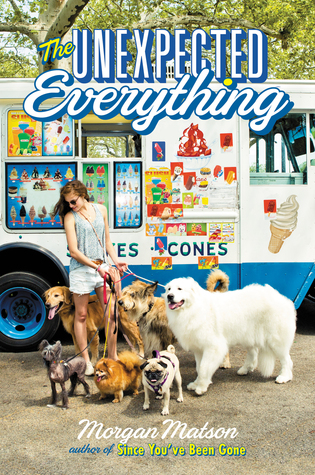 The Unexpected Everything
By Morgan Matson Source
Received from the publisher
Published by
Simon & Schuster Books for Young Readers
on May 3, 2016
Received from the publisher in exchange for an honest review. This does not affect my opinion of the book or the content of my review.
Rating:

Cover image and summary from Goodreads:

Andie had it all planned out.

When you are a politician's daughter who's pretty much raised yourself, you learn everything can be planned or spun, or both. Especially your future.

Important internship? Check.

Amazing friends? Check.

Guys? Check (as long as we're talking no more than three weeks).

But that was before the scandal. Before having to be in the same house with her dad. Before walking an insane number of dogs. That was before Clark and those few months that might change her whole life.

Because here's the thing—if everything's planned out, you can never find the unexpected.

And where's the fun in that?
I really liked Morgan Matson's Amy and Roger's Epic Detour, and totally loved Since You've Been Gone, so I was really excited to read this new book of hers. And guess what? It's my new favourite Morgan Matson book!
There was so much to love about this book, from the focus on friendship and Andie's relationship with her dad to the dogs (I love Bertie!) and the romance, the great writing, and the way Morgan Matson somehow captures the feeling of summer in this book. My ARC was a little over 500 pages, and I read this book in two days. And then immediately wanted to read it again when I finished. I just absolutely loved Andie's story and being caught up in her world, and I didn't want it to end!
My reading preferences tend to lean more towards fantasy, supernatural/paranormal, and science fiction stories rather than contemporary, but Morgan Matson has consistently been an author I've enjoyed reading. Her books are fun, but they also pull me in and manage to have me totally emotionally connected to the characters and invested in the story and the outcome.
The Unexpected Everything, like Morgan Matson's other books, was a perfect summer read! Totally recommended and a must-read!