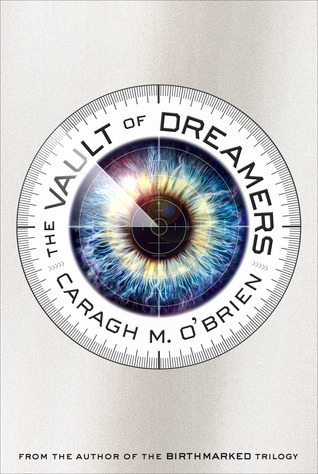 The Vault of Dreamers
By Caragh M. O'Brien Source
Received from the publisher
Published by
Roaring Brook Press
on September 16, 2014
Received from the publisher in exchange for an honest review. This does not affect my opinion of the book or the content of my review.
Rating:

Cover image and summary from Goodreads:

From the author of the Birthmarked trilogy comes a fast-paced, psychologically thrilling novel about what happens when your dreams are not your own.

The Forge School is the most prestigious arts school in the country. The secret to its success:  every moment of the students' lives is televised as part of the insanely popular Forge Show, and the students' schedule includes twelve hours of induced sleep meant to enhance creativity. But when first year student Rosie Sinclair skips her sleeping pill, she discovers there is something off about Forge. In fact, she suspects that there are sinister things going on deep below the reaches of the cameras in the school. What's worse is, she starts to notice that the edges of her consciousness do not feel quite right. And soon, she unearths the ghastly secret that the Forge School is hiding—and what it truly means to dream there.
Oh, how I wanted to love this book. I was really intrigued by the world building and science involved, but I struggled with the characters and the story, especially the ending.
The premise was interesting, with the Forge School being broadcast as a reality show, but Rosie, the protagonist, never grabbed me. Her romance with Liam (an employee at the school) was sweet, but as with Rosie, I didn't feel anything for his character.
My interest in this book was purely plot based. I found Rosie and some her actions really frustrating at times, but I did enjoy the story initially, and later on liked the is-she-crazy-or-isn't-she aspect of it all.
As for the end of the story, I was confused. It wasn't totally clear to me what had happened, and then I was left wondering if this will be part of a series or not, because if it isn't, I would have huge issues with the ending. And if it is part of a series, I may be curious enough to pick up the sequel eventually to see what happens.
I didn't love this book, sadly. I liked much of the story, up until the end, but didn't feel anything for the characters and end was too unclear for my liking.