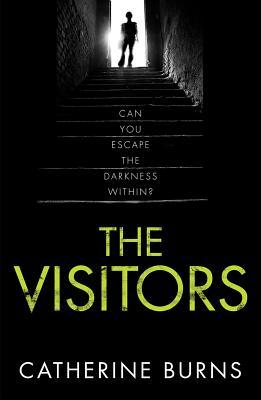 The Visitors
By Catherine Burns Source
Purchased
Published by
Legends Press
on October 3, 2017
Rating:

Marion Zetland lives with her domineering older brother, John in a decaying Georgian townhouse on the edge of a northern seaside resort. A timid spinster in her fifties who still sleeps with teddy bears, Marion does her best to shut out the shocking secret that John keeps in the cellar.

Until, suddenly, John has a heart attack and Marion is forced to go down to the cellar herself and face the gruesome truth that her brother has kept hidden.

As questions are asked and secrets unravel, maybe John isn't the only one with a dark side.
I have had this book on my shelf for a while, and picked it up because it seemed like it would fit in with my spooky season reading, and also because I wanted to read something from my own (physical) bookshelves (I've been focusing so much on ebooks and ARCs for a while, neglecting my physical copies).
On one hand, this was a quick read. I started and finished reading it in one day. It had a momentum to it that made me not able to put it down, that compelled me to read on.

On the other hand, I don't know what I really got out of reading this. The story was fine, the writing was fine, the story held my attention, but I didn't feel like I liked this book. I had no emotional investment in Marion and John's relationship, and the ending just made me sort of shrug. This was a real mixed read for me.