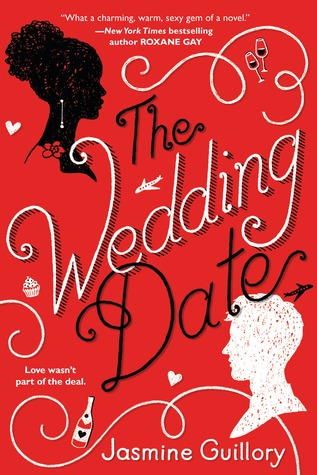 The Wedding Date
By Jasmine Guillory Series:
The Wedding Date #1
Source
Purchased
Published by
Berkley
on January 30, 2018
Rating:

Agreeing to go to a wedding with a guy she gets stuck with in an elevator is something Alexa Monroe wouldn't normally do. But there's something about Drew Nichols that's too hard to resist.

On the eve of his ex's wedding festivities, Drew is minus a plus one. Until a power outage strands him with the perfect candidate for a fake girlfriend...

After Alexa and Drew have more fun than they ever thought possible, Drew has to fly back to Los Angeles and his job as a pediatric surgeon, and Alexa heads home to Berkeley, where she's the mayor's chief of staff. Too bad they can't stop thinking about the other...

They're just two high-powered professionals on a collision course toward the long distance dating disaster of the century--or closing the gap between what they think they need and what they truly want...
I'd heard great things about this book, so when I was in the mood for a light, happy-ending book, I decided to check it out.
This book started off with a fun meet-cute, and I thought the story was sweet and I thought Alexa was great (I really liked reading about her job), but I couldn't quite get into the book. I didn't feel all that invested in Alexa and Drew's relationship, because I figured they would end up together in the end despite whatever issues they were having, but in a romance novel I want to feel invested in the relationship! So I'm not sure why I couldn't get into it here.
But this has a lot of glowing reviews, so if you're looking for a sweet rom-com, this might be the one for you.