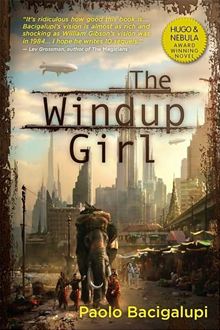 The Windup Girl
By Paulo Bacigalupi Source
Purchased
Published by
Night Shade Books
on September 1, 2009
Rating:

Anderson Lake is a company man, AgriGen's Calorie Man in Thailand. Under cover as a factory manager, Anderson combs Bangkok's street markets in search of foodstuffs thought to be extinct, hoping to reap the bounty of history's lost calories. There, he encounters Emiko...

Emiko is the Windup Girl, a strange and beautiful creature. One of the New People, Emiko is not human; instead, she is an engineered being, creche-grown and programmed to satisfy the decadent whims of a Kyoto businessman, but now abandoned to the streets of Bangkok. Regarded as soulless beings by some, devils by others, New People are slaves, soldiers, and toys of the rich in a chilling near future in which calorie companies rule the world, the oil age has passed, and the side effects of bio-engineered plagues run rampant across the globe.

What Happens when calories become currency? What happens when bio-terrorism becomes a tool for corporate profits, when said bio-terrorism's genetic drift forces mankind to the cusp of post-human evolution? Award-winning author Paolo Bacigalupi delivers one of the most highly acclaimed science fiction novels of the twenty-first century.
This was an interesting read. I don't read much science fiction, so this was sort of new territory for me. If you're a science fiction fan, I recommend this.
I had a really difficult time getting into this book at first. I was confused by the characters and the plot when I began reading, and it made it really difficult for me to want to keep reading.
However, about halfway through, things seemed to come together and I began to understand and enjoy the book. I didn't love it, but I liked it. There were some violent scenes that I found tough to read, but the story is intriguing and the seemingly disconnected threads tied together by the end. There were a few plot twists as well that I enjoyed.
I don't really know how to put into words what I thought about this book. It was a totally new reading experience for me, and I didn't like all of the characters at first, but as the book went on, I did become more invested in what happened to them, particularly Emiko, the windup girl. The descriptions of Bangkok are very vivid – I felt as though I could see and smell everything the author described.
Overall, this ended up being an occasionally difficult but interesting book, and I definitely want to read more by this author.