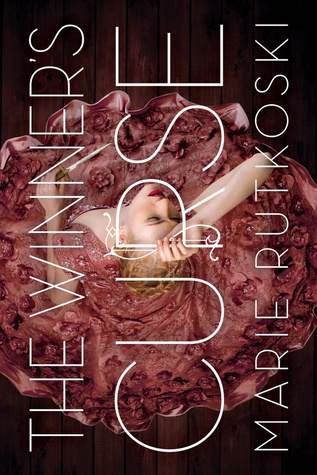 The Winner's Curse
By Marie Rutkoski Series:
The Winner's Trilogy #1
Source
Received from the publisher
Published by
Farrar Straus Giroux
,
MacMillan
on March 4, 2014
Received from the publisher in exchange for an honest review. This does not affect my opinion of the book or the content of my review.
Rating:

Summary and cover image from Goodreads:

Winning what you want may cost you everything you love

As a general's daughter in a vast empire that revels in war and enslaves those it conquers, seventeen-year-old Kestrel has two choices: she can join the military or get married. But Kestrel has other intentions.

One day, she is startled to find a kindred spirit in a young slave up for auction. Arin's eyes seem to defy everything and everyone. Following her instinct, Kestrel buys him—with unexpected consequences. It's not long before she has to hide her growing love for Arin.

But he, too, has a secret, and Kestrel quickly learns that the price she paid for a fellow human is much higher than she ever could have imagined.

Set in a richly imagined new world, The Winner's Curse by Marie Rutkoski is a story of deadly games where everything is at stake, and the gamble is whether you will keep your head or lose your heart.
Spoilers!
I've been eager to read this book ever since I first heard about it, and then seeing the gorgeous cover had me even more excited!
This book has already had a ton of hype, which can make me apprehensive, but I'm so happy to report that I loved this book! Once I started reading, it was nearly impossible to put it down.
I really enjoyed the setting and reading about the history between the Valorians and the Herrani. I thought it gave some weight to the story and showed how both Kestrel and Arin were influenced by their different histories and customs.
I also appreciated the passage of time in this book. Rather than events taking place quickly, suddenly, over the span of a few days, time passed and seasons changed. It helped me to really feel the romance building between Kestrel and Arin. There was something about him that she was drawn to, and I loved seeing them both fighting their attraction to each other, and then finally giving in.
Arin and Kestrel come from two very different worlds. Compared to Arin, Kestrel certainly seems to have more power and agency, but I think that was also a bit of an illusion, given her gender and her role as the general's daughter. They both faced a lot of pressure and bore the weight of expectation: Arin to help carry out a rebellion and then lead his people, and Kestrel to live up to her father's expectations to marry or join the military.
Kestrel's relationship with her father was another interesting aspect of the story. I really liked reading about it but wish I'd been able to learn more about Arin's family and past. What I did learn was intriguing, but I felt that it came so late in the story.
And the intrigue! I loved learning that Arin was actually plotting against the Valorians and using the information that he learned from within Kestrel's home.
The ending of this book went in a direction I wasn't expecting, and it has me so excited for the sequel! This is already one of my favourite reads of the year and I highly recommend it!