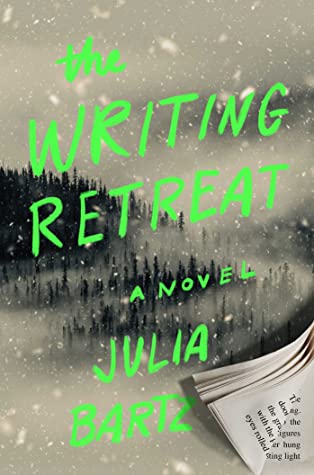 The Writing Retreat
Source
Received from the publisher
Published by
Atria / Emily Bestler Books
on February 21, 2023
Received from the publisher in exchange for an honest review. This does not affect my opinion of the book or the content of my review.
Rating:

Alex has all but given up on her dreams of becoming a published author when she receives a once-in-a-lifetime opportunity: attend an exclusive, month-long writing retreat at the estate of feminist horror writer Roza Vallo. Even the knowledge that Wren, her former best friend and current rival, is attending doesn't dampen her excitement.

But when the attendees arrive, Roza drops a bombshell—they must all complete an entire novel from scratch during the next month, and the author of the best one will receive a life-changing seven-figure publishing deal. Determined to win this seemingly impossible contest, Alex buckles down and tries to ignore the strange happenings at the estate, including Roza's erratic behavior, Wren's cruel mind games, and the alleged haunting of the mansion itself. But when one of the writers vanishes during a snowstorm, Alex realizes that something very sinister is afoot. With the clock running out, she's desperate to discover the truth and save herself.

A claustrophobic and propulsive thriller exploring the dark side of friendships and fame, The Writing Retreat is the unputdownable debut novel from a compelling new talent.
This appealed to me immensely. I love books about books and writers, and the remote setting made this irresistible.
The set up was fairly straight-forward, and while I loved Roza's mystique and learning about her stories, the retreat and reveal that each attendee was to write a novel at the retreat in a sort of competition heightened the tension.
Woven in with all of this was the unravelling of Alex's friendship with her ex-BFF Wren. What really happened between the two of them, and how the truth is drawn out, was so intriguing.
This book went off the rails in the best way for me, because it lived up to its building tension and weirdness and bad vibes with a reveal that was as bonkers as it needed to be to not fall flat for me. I loved it, liked the ending, but I guess wanted View Spoiler » more from Roza about what she was doing and how exactly she managed to get away with it for so long. But she was pretty twisted and it made for an interesting read. « Hide Spoiler
This was definitely a favourite last year when I read an advance copy, and one that I will be recommending a lot this year!