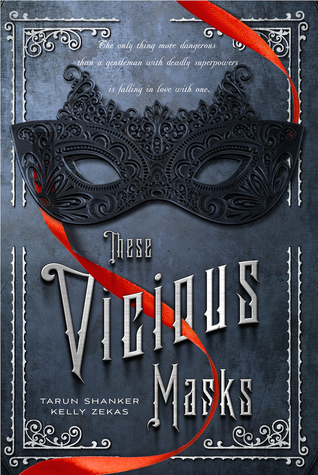 These Vicious Masks
By Kelly Zekas, Tarun Shanker Series:
These Vicious Masks #1
Source
Received from the publisher
Published by
Swoon Reads
on February 9, 2016
Received from the publisher in exchange for an honest review. This does not affect my opinion of the book or the content of my review.
Rating:

Cover image and summary from Goodreads:

England, 1882. Evelyn is bored with society and its expectations. So when her beloved sister, Rose, mysteriously vanishes, she ignores her parents and travels to London to find her, accompanied by the dashing Mr. Kent. But they're not the only ones looking for Rose. The reclusive, young gentleman Sebastian Braddock is also searching for her, claiming that both sisters have special healing powers. Evelyn is convinced that Sebastian must be mad, until she discovers that his strange tales of extraordinary people are true—and that her sister is in graver danger than she feared.
I read a description of this book that said it was Jane Austen meets the X-Men, which absolutely grabbed my attention! Now that I've read the book, I have to say that I agree with that description!
I really enjoyed this book! It was fun, exciting, and funny, with a great female protagonist and a romantic subplot that I really liked!
I'm definitely looking forward to reading a sequel. Highly recommended!
Buy a copy for yourself: