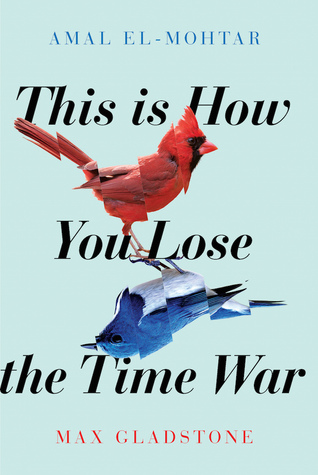 This Is How You Lose the Time War
By Amal El-Mohtar, Max Gladstone Source
Purchased
Published by
Saga Press
on July 16, 2019
Rating:

Among the ashes of a dying world, an agent of the Commandant finds a letter. It reads: Burn before reading.

And thus begins an unlikely correspondence between two rival agents hellbent on securing the best possible future for their warring factions. Now, what began as a taunt, a battlefield boast, grows into something more.

Except discovery of their bond would be death for each of them. There's still a war going on, after all. And someone has to win that war. That's how war works. Right?
This was a book club pick that I was super excited to read, because I'd already bought a copy after hearing tons of great things about it.
Despite being a small book, I found this by no means to be a quick read. The language was dense, and I could only figure out the world and the time travel details by reading between the lines or picking up background details.
I loved the way time travel worked and was described, and how parts of the story came full circle. And reading about the characters demonstrating such intimacy and vulnerability and depth of feeling for each other through their letters was lovely (and OMG the way they sent their letters!).
While it got a bit convoluted or overwhelming for me in the end, this was a fun, creative, beautifully told story. Recommended.