By Jennifer E. Smith
Source: Library (and gifted to me from my Ninja Book Swap partner!)
My Rating: 3.5 / 5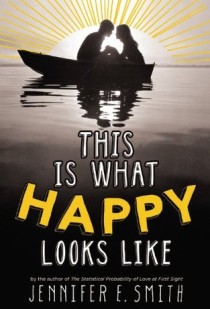 This book has been on my radar for a while, and I heard good things about it. Here is the Goodreads summary:
If fate sent you an email, would you answer?
When teenage movie star Graham Larkin accidentally sends small town girl Ellie O'Neill an email about his pet pig, the two seventeen-year-olds strike up a witty and unforgettable correspondence, discussing everything under the sun, except for their names or backgrounds.

Then Graham finds out that Ellie's Maine hometown is the perfect location for his latest film, and he decides to take their relationship from online to in-person. But can a star as famous as Graham really start a relationship with an ordinary girl like Ellie? And why does Ellie want to avoid the media's spotlight at all costs?
This was a nice summer read, and another contemporary for me! I was drawn to this book because I liked the cover, but also because it sounded like a meet-cute summer romance, and sometimes I need that kind of book in my life! I felt like I'd been reading some intense, heavy books and was looking for something different.
I liked getting both Graham and Ellie's perspectives throughout the story, via alternating chapters. I was especially intrigued by Graham's superstar life, which turned out to be a lonely and difficult life at times.
I also liked that Ellie wasn't totally starstruck by Graham when he came to town. I think part of that was because she was a fairly down to earth girl, and part of it was due to the family secret she and her mother were keeping. Ellie's mother didn't want her getting involved with Graham and being photographed by paparazzi (I won't spoil the why of it all), and I think that part of what Graham liked about Ellie once they met face to face was that she treated him like a regular person, not a megastar.
And how cute is it that they met via a mixed-up e-mail address and became internet pen pals? Their early e-mails to each other were adorable – they were funny, flirty, sweet – I had a big smile on my face reading those.
As for characters, I really liked Ellie and Graham. They had nice chemistry. Ellie's mom was a bit up and down for me, though: she was very tough on Ellie about Graham, and I suppose I can understand, from her perspective, why she acted that way, but in so many other ways she seemed like a great mom, and she and Ellie seemed to otherwise have a wonderful mother-daughter relationship. I also had mixed feelings about Ellie's best friend, Quinn. I think she could have tried to be more understanding of Ellie, and tried to listen more to Ellie's explanation of how she came to know Graham (e.g. she didn't know his name when they met via e-mail).
I do wish that more had been done regarding Ellie's relationship with her father, but I suppose I can understand why things were left the way they were.
As much as I enjoyed this book, it didn't really stick with me. I liked it but I didn't love it. I didn't feel emotionally sucked into this, but it was a pleasant reading experience. It was certainly a nice, light summer read, which was just what I was looking for when I picked it up, so I do recommend it.