By Cecil Castellucci
Source: Review copy received from publisher via Netgalley
Release Date: February 25, 2014
My rating: 4 / 5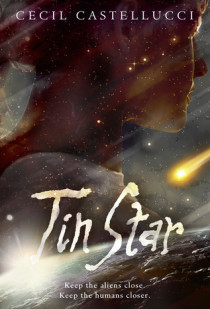 I love this cover!
From the Goodreads summary:
On their way to start a new life, Tula and her family travel on the Prairie Rose, a colony ship headed to a planet in the outer reaches of the galaxy. All is going well until the ship makes a stop at a remote space station, the Yertina Feray, and the colonist's leader, Brother Blue, beats Tula within an inch of her life. An alien, Heckleck, saves her and teaches her the ways of life on the space station.

When three humans crash land onto the station, Tula's desire for escape becomes irresistible, and her desire for companionship becomes unavoidable. But just as Tula begins to concoct a plan to get off the space station and kill Brother Blue, everything goes awry, and suddenly romance is the farthest thing from her mind.
This book was a pleasant surprise. I went in not really knowing what to expect, intrigued by the premise. I haven't read a lot of YA sci-fi featuring aliens, but I really liked this!
The story sets up very quickly, with Tula being beaten and left behind by Brother Blue, the leader of colony she was traveling to. Her family, along with the rest of the human colonists, take off without her, not even realizing what's happened to her. Brother Blue believes her dead, and while Tula recovers on the Yertina Feray, her desire for revenge sets in.
I loved reading about Tula's life on the space station and how she survives with the help of an alien, Heckleck, who becomes the closest thing she has to a friend. I don't know why, but I didn't think I'd feel all that attached to characters who were aliens – it seems silly now to think that – but I did, I really did! I felt totally caught up in Tula's story.
I liked reading about the different species of aliens and their customs and appearance. It was so much fun to picture everything while I read, and I even enjoyed the romance that developed later in the novel.
One of the things that I most enjoyed about this book was that I was never able to predict anything or even guess at what was going to happen next. It was great to read a book that swept me up in its story and took me along for the ride. The way the book ended has me looking forward to a sequel, but I haven't seen anything official on that yet. I think there's so much more of Tula's story to be told, though, and so I'm very eager to read more!
Cecil Castellucci's other books have been on my TBR for a while, and now I really want to read them! This book was so fun to read. I definitely recommend it if you're interested in YA sci-fi/space tales, or just looking for something different.