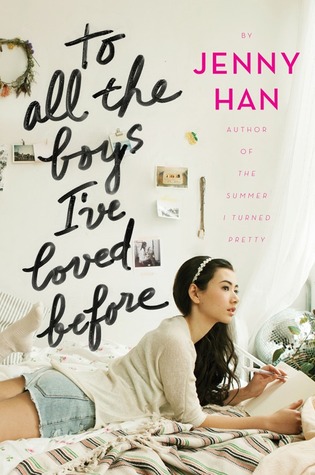 To All the Boys I've Loved Before
By Jenny Han Series:
To All the Boys I've Loved Before #1
Source
Received from the publisher
Published by
Simon & Schuster
on April 15, 2014
Received from the publisher in exchange for an honest review. This does not affect my opinion of the book or the content of my review.
Rating:

Summary and cover image from Goodreads:

To All the Boys I've Loved Before is the story of Lara Jean, who has never openly admitted her crushes, but instead wrote each boy a letter about how she felt, sealed it, and hid it in a box under her bed. But one day Lara Jean discovers that somehow her secret box of letters has been mailed, causing all her crushes from her past to confront her about the letters: her first kiss, the boy from summer camp, even her sister's ex-boyfriend, Josh. As she learns to deal with her past loves face to face, Lara Jean discovers that something good may come out of these letters after all.
This is another book that was one of my most anticipated reads of 2014, which surprised me because I'm not a huge contemporary fan. I think there was something about the synopsis of this book that made me so anxious (seriously, love letters you never intend for anyone to see suddenly get sent out??? Eek!) that I just had to know what happened. Also, I'm a huge fan of the Burn for Burn series that Jenny Han writes with Siobhan Vivian, so I went in with high hopes.
Right away, I loved Lara Jean. I identified with her so much! And I liked reading about her relationship with her family. I too am a middle child of three girls, and I knew that feeling of looking up to an older sister who is moving away and the mixture of feelings that can cause. I loved the way Lara Jean took care of her younger sister Kitty, and it felt refreshing to read about a teenage MC who has a healthy, happy relationship with her father.
I LOVED this book! Lara Jean's confusion over her feelings for Josh, her sister's now ex-boyfriend, was understandable but when her love letters were mailed out, including to Josh (!!!), things got complicated! So Lara Jean comes up with a solution: she tells Josh she's dating Peter Kavinski. Peter is another boy who received one of Lara Jean's letters, he's the most popular boy in school, and he's broken up with his girlfriend. They can use their fake relationship to make Josh and Peter's ex jealous. What could possibly go wrong?
So I was swooning throughout this entire book! The more Lara Jean got to know Peter K., the more I loved him! And the more time he and Lara Jean spent together, the more I wanted them to date each other for real! I swear, I had a huge smile on my face the entire time I read this book. Lara Jean was awkward, funny, anxious, sweet, and a total romantic. She was such a great MC because I really saw some of myself in her, but she was also much braver than I've ever been!
I stayed up way too late to finish reading this one, and then I immediately pre-ordered a finished copy since Jenny Han had said on her website that the finished book may be a bit longer than the ARC, with an extra chapter or two, and I want more of this book!! I was also kind of freaking out when I realized it's part of a duology (the second book, P.S. I Still Love You, will be out in 2015 and I can't wait!).
This book had everything I love in a contemporary read: humour, drama, great characters, and totally left me wanting more! This is already one of my favourite books I've read this year and I totally recommend it!