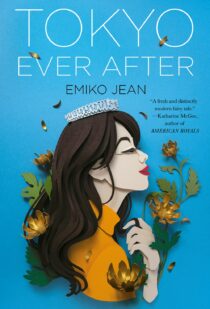 Tokyo Ever After
By Emiko Jean Series:
Tokyo Ever After #1
Source
Received from the publisher
Published by
Flatiron Books
on May 18, 2021
Received from the publisher in exchange for an honest review. This does not affect my opinion of the book or the content of my review.
Rating:

Izumi Tanaka has never really felt like she fit in—it isn't easy being Japanese American in her small, mostly white, northern California town. Raised by a single mother, it's always been Izumi—or Izzy, because "It's easier this way"—and her mom against the world. But then Izzy discovers a clue to her previously unknown father's identity… and he's none other than the Crown Prince of Japan. Which means outspoken, irreverent Izzy is literally a princess.

In a whirlwind, Izzy travels to Japan to meet the father she never knew and discover the country she always dreamed of. But being a princess isn't all ball gowns and tiaras. There are conniving cousins, a hungry press, a scowling but handsome bodyguard who just might be her soulmate, and thousands of years of tradition and customs to learn practically overnight.

Izzy soon finds herself caught between worlds, and between versions of herself—back home, she was never "American" enough, and in Japan, she must prove she's "Japanese" enough. Will Izumi crumble under the weight of the crown, or will she live out her fairytale, happily ever after?
I picked this book up because I wanted something light and fun (compared to my usual dark or murder-y reads), and it was just what I needed!
I loved this book! Imagine finding out you are a princess! It sounds great, but when you are the princess of a country you've never been to, there's a lot to learn. I saw a lot of readers comparing this to The Princess Diaries, and I see why!
The story was funny and sweet and romantic, but it also showed the pressure Izumi was under as someone newly in the spotlight and with a lot of expectations on her because of who her father was.
I really enjoyed Izumi's relationship with her mother, and her developing relationship with her father. I cannot wait for the sequel, Tokyo Dreaming!