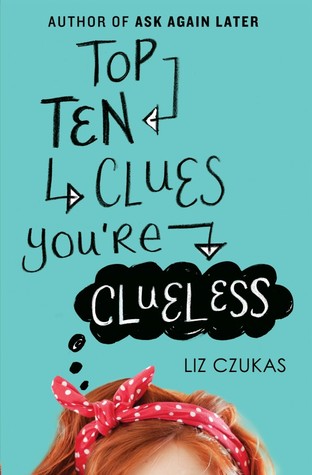 Top Ten You're Clueless
By Liz Czukas Source
Received from the publisher
Published by
Harper Teen
on December 9, 2014
Received from the publisher in exchange for an honest review. This does not affect my opinion of the book or the content of my review.
Rating:

Top Five Things That Are Ruining Chloe's Day

5) Working the 6:30 a.m. shift at GoodFoods Market

4) Crashing a cart into a customer's car right in front of her snarky coworker Sammi

3) Trying to rock the "drowned rat" look after being caught in a snowstorm

2) Making zero progress with her crush, Tyson (see #3)

1) Being accused—along with her fellow teenage employees—of stealing upwards of $10,000

Chloe would rather be anywhere than locked in work jail (aka the break room) with five of her coworkers . . . even if one of them is Tyson. But if they can band together to clear their names, what looks like a total disaster might just make Chloe's list of Top Ten Best Moments.
This was a very quick, delightful read that I didn't even realize was set on Christmas Eve until I started reading.
I've been trying to read some of my older ARCs, and this was one on my Kindle that sounded sort of fun and light, just what I was in the mood for one evening.
But there was more depth to this one than I expected, and I got a bit of a Breakfast Club vibe from the group of teenagers Chloe worked with. I liked the mystery, the relationships that deepened among Chloe and her coworkers over the course of the day and evening, and as a major list-maker, I really liked Chloe and her lists.
This was a quick, fun read, and now I want to check out more by Liz Czukas.