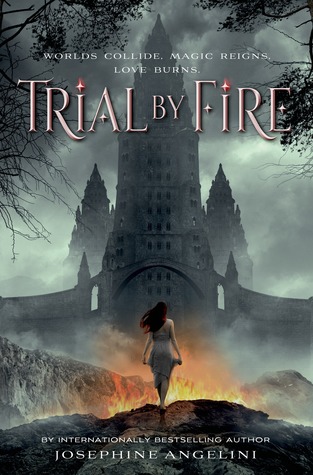 Trial by Fire
By Josephine Angelini Series:
The Worldwalker Trilogy #1
Source
Received from the publisher
Published by
Feiwel and Friends
on September 2, 2014
Received from the publisher in exchange for an honest review. This does not affect my opinion of the book or the content of my review.
Rating:

Cover image and summary from Goodreads:

This world is trying to kill Lily Proctor. Her life-threatening allergies keep her from enjoying experiences that others in her hometown of Salem take for granted, which is why she is determined to enjoy her first high school party with her best friend and longtime crush, Tristan. But after a humiliating incident in front of half her graduating class, Lily wishes she could just disappear.

Suddenly, Lily is in a different Salem—one overrun with horrifying creatures and ruled by powerful women called Crucibles. Strongest and cruelest of them all is Lillian . . . Lily's other self in this alternate universe.

What makes Lily weak at home is what makes her extraordinary in New Salem. In this confusing world, Lily is torn between responsibilities she can't hope to shoulder alone and a love she never expected.
I'd heard so many good thing about Trial by Fire before I picked it up, so I was pretty excited to read it!
One of my favourite things about the book was the world-building: the details about magic, the role of witches and mechanics in Salem, was all really interesting and I liked the way it was explained.
I also loved the characters: Lily, Rowan, and Juliet, among the other characters Lily encountered in Salem. The romance, the humour, and the dangers mixed into the story made for a really fun, exciting read, and the more I learned about the characters and their motivations, the more I wanted to know what was going to happen next!
Trial by Fire was a super fun, engrossing story with great characters, romance that didn't overshadow the rest of the story, and an ending that has me very eager for book two. Highly recommended!