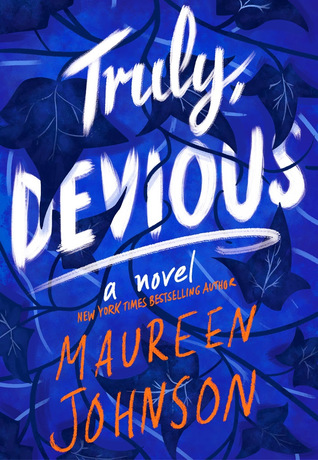 Truly Devious
By Maureen Johnson Series:
Truly Devious #1
Source
Received from the publisher
Published by
HarperCollins
on January 16, 2018
Received from the publisher in exchange for an honest review. This does not affect my opinion of the book or the content of my review.
Rating:

Cover image and synopsis from Goodreads:

Ellingham Academy is a famous private school in Vermont for the brightest thinkers, inventors, and artists. It was founded by Albert Ellingham, an early twentieth century tycoon, who wanted to make a wonderful place full of riddles, twisting pathways, and gardens. "A place," he said, "where learning is a game."

Shortly after the school opened, his wife and daughter were kidnapped. The only real clue was a mocking riddle listing methods of murder, signed with the frightening pseudonym "Truly, Devious." It became one of the great unsolved crimes of American history.

True-crime aficionado Stevie Bell is set to begin her first year at Ellingham Academy, and she has an ambitious plan: She will solve this cold case. That is, she will solve the case when she gets a grip on her demanding new school life and her housemates: the inventor, the novelist, the actor, the artist, and the jokester. But something strange is happening. Truly Devious makes a surprise return, and death revisits Ellingham Academy. The past has crawled out of its grave. Someone has gotten away with murder.

The two interwoven mysteries of this first book in the Truly Devious series dovetail brilliantly, and Stevie Bell will continue her relentless quest for the murderers in books two and three.
I love Maureen Johnson and her books, so I was really excited to receive this ARC. I thought the premise for this book was really interesting, and the school sounded awesome.
I really liked the way the story moved back and forth in time, with two mysteries that were years apart but that might be connected. I also didn't figure this one out, which I like.
I also really appreciated the depiction of Stevie's anxiety (even if the details, which mirrored my anxiety, made me feel anxious).
I would have liked to read more about Stevie and her best friend, though – I felt like the book told me they were friends, but I didn't actually see that friendship on the page as much as I wanted to. I also wasn't really into the romance / love interest.
Slight spoiler alert:
The ending, though, didn't resolve anything for me, and because there was no confession from the accused, that person may not be the culprit.
End of spoiler.
So overall, this was a fun, interesting read with the humour that I expect from Maureen Johnson. The ending was pretty unsatisfying, but it guarantees that I will be reading book two!