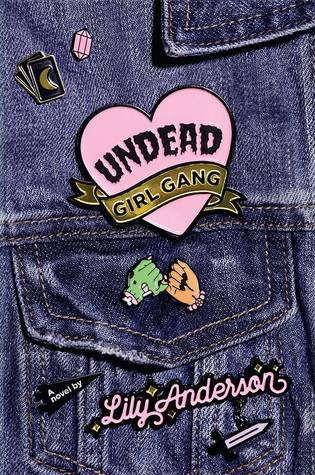 Undead Girl Gang
By Lily Anderson Source
Received from the publisher
Published by
Razorbill
on May 8, 2018
Received from the publisher in exchange for an honest review. This does not affect my opinion of the book or the content of my review.
Rating:

Cover image and synopsis from Goodreads:

Mila Flores and her best friend Riley have always been inseparable. There's not much excitement in their small town of Cross Creek, so Mila and Riley make their own fun, devoting most of their time to Riley's favorite activity: amateur witchcraft.

So when Riley and two Fairmont Academy mean girls die under suspicious circumstances, Mila refuses to believe everyone's explanation that her BFF was involved in a suicide pact. Instead, armed with a tube of lip gloss and an ancient grimoire, Mila does the unthinkable to uncover the truth: she brings the girls back to life.

Unfortunately, Riley, June, and Dayton have no recollection of their murders, but they do have unfinished business to attend to. Now, with only seven days until the spell wears off and the girls return to their graves, Mila must wrangle the distracted group of undead teens and work fast to discover their murderer...before the killer strikes again.
I was so excited to read this book and I fell in love with that cover! I was super excited to receive an ARC from the publisher.
The synopsis for this book definitely captured my attention. I love stories about the undead and zombies, so when Mila was determined to bring her best friend Riley back from the dead, I was intrigued. But somehow she accidentally brings back two other girls – who were definitely not her friends – and winds up trying to figure out who killed them all.
I was really into the mystery in this book. Were the deaths suicides or murders? Mila's investigation is complicated by the fact that the girls who've come back can't entirely remember the circumstances surrounding their deaths. I didn't quite figure this one out, which is always a plus for me.
I loved the focus on friendship in this book, and I was more emotionally invested in this book than I thought I would be at the outset. I really enjoyed this, and now I want to go back and read Lily Anderson's previous books!