Waiting on Wednesday is hosted by Jill at Breaking the Spine, and spotlights upcoming releases that we're eagerly anticipating.
Today my pick is You're Never Weird on the Internet – Almost, by Felicia Day (coming out on August 11 from Touchstone)!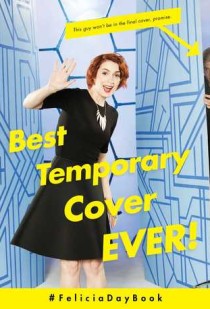 From Goodreads:
From online entertainment mogul, actress, and "queen of the geeks" Felicia Day, a funny, quirky, and inspiring memoir about her unusual upbringing, her rise to Internet-stardom, and embracing her individuality to find success in Hollywood.

The Internet isn't all cat videos. There's also Felicia Day—violinist, filmmaker, Internet entrepreneur, compulsive gamer, hoagie specialist, and former lonely homeschooled girl who overcame her isolated childhood to become the ruler of a new world…or at least semi-influential in the world of Internet Geeks and Goodreads book clubs.

After growing up in the south where she was "homeschooled for hippie reasons", Felicia moved to Hollywood to pursue her dream of becoming an actress and was immediately typecast as a crazy cat-lady secretary. But Felicia's misadventures in Hollywood led her to produce her own web series, own her own production company, and become an Internet star.

Felicia's short-ish life and her rags-to-riches rise to Internet fame launched her career as one of the most influential creators in new media. Now, Felicia's strange world is filled with thoughts on creativity, video games, and a dash of mild feminist activism—just like her memoir.

Hilarious and inspirational, You're Never Weird on the Internet (Almost) is proof that everyone should embrace what makes them different and be brave enough to share it with the world, because anything is possible now—even for a digital misfit.
I LOVE FELICIA DAY! I think she's so smart and funny and cool. She's been on television shows that I totally love (SUPERNATURAL; Dollhouse) and her webseries The Guild is absolutely one of my favourite-ever things.
I'm so so so excited to learn more about her life and how she got to where she is now. This is at the very top of my most anticipated books of 2015! I have to wait until August to get my hands on it, but since that is (hopefully) around the same time that my husband and I will be moving into our new condo, I am really looking forward to making it one of the first books I'll read in my new home.
What are you waiting on this week?