Waiting on Wednesday
Waiting on Wednesday is hosted by Jill at Breaking the Spine, and spotlights upcoming releases that we're eagerly anticipating.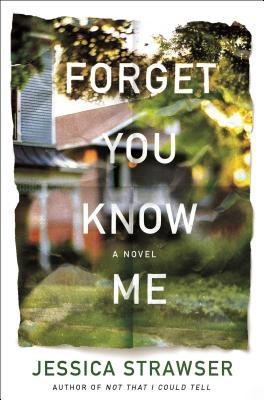 Today my pick is Forget You Know Me by Jessica Strawser, out February 5, 2019 from St. Martin's Press.
Liza and Molly are life-long best friends—or at least they used to be. Ever since Liza moved to Chicago to pursue her career, leaving Molly behind in Cincinnati with a husband and two kids, the distance between their two lives has grown more and more insurmountable. In a last-ditch effort to save their friendship, they arrange a "girls night" over webcam, wine in hand, catching up like they used to. But when Molly runs upstairs to check on a crying toddler, Liza watches, horror-struck, as a masked man enters the home of her best friend.

After calling the police, Liza frantically tries to reach Molly, but when she finally responds, her message is icy and terse, insisting that everything is fine. Liza is still convinced something is wrong—that her friend is in danger. But after an all-night drive to rescue her ends in a brutal confrontation, Liza is sure their friendship is over.

Meanwhile, Molly finds herself wondering whether she's dodged one ruinous mistake only to make another in its place. Did she sacrifice her oldest friendship to save her marriage? Or has she inadvertently sacrificed both?

Liza and Molly can't avoid each other forever, and soon, they'll face a reckoning that will force them to decide just how much weight a shared history can carry.
I can't remember where I first heard about this book (maybe Book Riot Insiders), but as soon as I read the synopsis, I added it to my TBR.
Its release date is still a ways off, but I am really looking forward to reading this book. I think it's giving me a Liane Moriarty vibe, so I can't wait to check it out!
What are you waiting on this week?
Related Posts