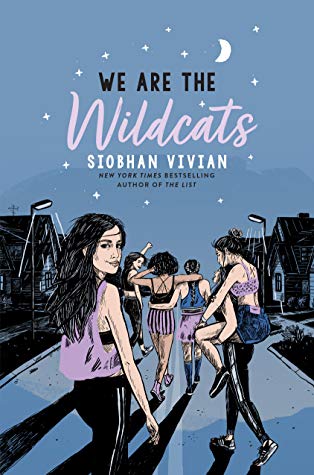 We Are The Wildcats
By Siobhan Vivian Source
Received from the publisher
Published by
Simon & Schuster Books for Young Readers
on March 31, 2020
Received from the publisher in exchange for an honest review. This does not affect my opinion of the book or the content of my review.
Rating:

A toxic coach finds himself outplayed by the high school girls on his team in this deeply suspenseful novel, which unspools over twenty-four hours through six diverse perspectives.

Tomorrow, the Wildcat varsity field hockey squad will play the first game of their new season. But at tonight's team sleepover, the girls are all about forging the bonds of trust, loyalty, and friendship necessary to win.

Everything hinges on the midnight initiation ceremony—a beloved tradition and the only facet of being a Wildcat that the girls control. Until now.

Coach—a handsome former college player revered and feared in equal measure—changes the plan and spins his team on a new adventure. One where they take a rival team's mascot for a joyride, crash a party in their pajamas, break into the high school for the perfect picture.

But as the girls slip out of their comfort zone, so do some long-held secrets. And just how far they're willing to go for their team takes them all—especially Coach—by surprise.

A testament to the strength and resilience of modern teenage girls, We Are the Wildcats will have readers cheering.
I was excited to read this book because I've enjoyed all of Siobhan Vivian's books that I've read in the past, and the synopsis grabbed my attention. I was excited to receive an e-ARC from Simon & Schuster Canada!
This was a sort of slow-build, character-focused story, so I don't know that it will be everyone's cup of tea. For the first few chapters, I kept waiting for something to happen, some sort of event to incite what I anticipated would be coming, but once I grasped that it was not that kind of book, I settled in and enjoyed this one a lot.
This story is told via multiple different narratives, following six girls from the team. I found that a little confusing at first, and thought maybe six characters was too many, but I got used to it. It also takes place over the course of a single day/night, which was interesting because that can give a sense of urgency to a story, and I did feel the clock ticking down.
My favourite thing about this book was the girls' friendship and team spirit, and seeing how important the team was to each of them. Reading about Coach View Spoiler » and his gaslighting was super frustrating, and I was so happy when the girls, particularly Mel, realized it and opened their eyes to his behaviour. I loved their dismissal of him in the end, and while I know that the game was not the point, I felt like the ending was a bit too abrupt for me and I found myself wanting more. « Hide Spoiler
I loved seeing the girls become a team, and despite some nitpicks, I quite enjoyed this book.