April 6 – 12
Spring is finally here…almost. We did have some snow this week, but we also had some nice, sunny, almost-warm days. I can't wait until I can read out on the balcony!
Making it feel even more like warmer weather is coming: baseball has officially started! I've been watching as many games as I can so far (including, of course, my Toronto Blue Jays).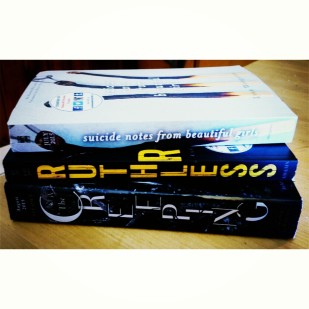 This has been quite the book week! I received these lovelies from Simon and Schuster Canada (big thank you!) and I'm excited to read all of them:
Suicide Notes from Beautiful Girls, by Lynn Weingarten;
Ruthless, by Carolyn Lee Adams; and
The Creeping, by Alexandra Sirowy.
I have a few holds waiting for me to pick them up at the library but the only one I've actually checked out this week is The Glass Arrow, by Kristen Simmons.
I also went a bit nuts on Edelweiss, checking out some of the Harper titles that were available. There are a whole bunch of awesome-sounding books that I ended up downloading:
This Monstrous Thing, by Mackenzi Lee;
The Vanishing Island, by Barry Wolverton;
Walk on Earth a Stranger, by Rae Carson;
Dumplin, by Julie Murphy;
Dreamland, by Robert L. Anderson; and
The Unquiet, by Mikaela Everett.
I also received my pre-order of Courtney Summers' All the Rage (which I reviewed earlier in the week), a bit ahead of its actual release date. Yay!
I finished reading two books (and will be posting the reviews next week): The Young Elites, by Marie Lu, and This Is How It Ends, by Jen Nadol.
Currently, I'm still reading Skandal by Lindsay Smith, and hope to finish it this weekend.
On the blog last week, I posted my reviews of Jaclyn Dolamore's Dark Metropolis, and The Queen of Bright and Shiny Things by Ann Aguirre.
As I mentioned above, I also posted my review of All the Rage. The review also went up on my friend Ciara's site, as part of her All the Rage April. Be sure to check out her other posts!
Coming up on the blog are my reviews of The Young Elites and This Is How It Ends. I'll also be posting about the little project I've been working on, which involves my favourite TV show!
Happy Sunday everyone! What are you reading this weekend? Let me know in the comments or on Twitter!