Week In Review
September 21 – 27
What a week! I started my new job, which I like a lot, received some great books in the mail, and got a new Nintendo game.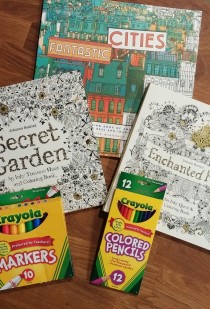 A couple of weeks ago, I attended Raincoast Books' Teens Read Winter + Spring Preview (via Google Hangout) and won a colouring kit prize pack, which arrived this week: pencil crayons, markers, the colouring books Secret Garden and Enchanted Forest by Johanna Basford, and Fantastic Cities by Steve McDonald! I can't wait to get colouring!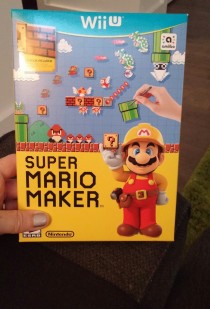 I also treated myself to a new Nintendo game, Super Mario Maker, which I'm having a lot of fun with so far! You get to create levels, but you can also play levels created by other players all over the world. It's so cool!
On to books! I got some books this week that I'm really really really excited to read:
First up is Salt to the Sea, by Ruta Sepetys:
In 1945, World War II is drawing to a close in East Prussia, and thousands of refugees are on a desperate trek toward freedom, almost all of them with something to hide. Among them are Joana, Emilia, and Florian, whose paths converge en route to the ship that promises salvation, the Wilhelm Gustloff. Forced by circumstance to unite, the three find their strength, courage, and trust in each other tested with each step closer toward safety.

Just when it seems freedom is within their grasp, tragedy strikes. Not country, nor culture, nor status matter as all ten thousand people aboard must fight for the same thing: survival.

Told in alternating points of view, this masterful work of historical fiction is inspired by the real-life tragedy that was the sinking of the Wilhelm Gustloff—the greatest maritime disaster in history. As she did in Between Shades of Gray, Ruta Sepetys unearths a shockingly little-known casualty of a gruesome war, and proves that humanity can prevail, even in the darkest of hours.
Next is Scarlett Epstein Hates It Here, by Anna Breslaw:
Meet Scarlett Epstein, BNF (Big Name Fan) in her online community of fanfiction writers, world-class nobody at Melville High. Her best (read: only) IRL friends are Avery, a painfully shy and annoyingly attractive bookworm, and Ruth, her pot-smoking, possibly insane seventy-three-year-old neighbor.

When Scarlett's beloved TV show is canceled and her longtime crush, Gideon, is sucked out of her orbit and into the dark and distant world of Populars, Scarlett turns to the fanfic message boards for comfort. This time, though, her subjects aren't the swoon-worthy stars of her fave series—they're the real-life kids from her high school. Scarlett never considers what might happen if they were to find out what she truly thinks about them…until a dramatic series of events exposes a very different reality than Scarlett's stories, forever transforming her approach to relationships—both online and off.
Thank you Penguin Canada/Razorbill! I'm looking forward to both of these books so much!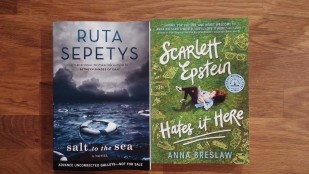 As for my reading this week, I finished two books: The Sisters of Versailles, by Sally Christie, and When Everything Feels Like the Movies, by Raziel Reid. Those are two very different books, but they were both complex and I'm still thinking about both of them!
I suppose I'm not currently reading anything. I picked up Blood and Salt by Kim Liggett but had put it down to focus on The Sisters of Versailles before I got more than a few pages in. I'm hoping to have time to get back into it today, because I've been looking forward to reading it for ages!
Last week I posted reviews of Beastly Bones, by William Ritter, and Six of Crows, by Leigh Bardugo. I loved both of those books so so so much!! I highly recommend them!
Coming up this week are reviews of The Sisters of Versailles, and Daughters Unto Devils, by Amy Lukavics.
That's it for me! Happy Sunday!
Related Posts