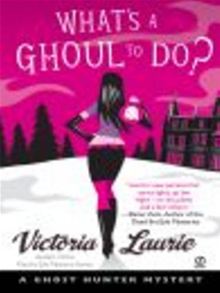 What's A Ghoul To Do?
By Victoria Laurie Series:
Ghost Hunter Mystery #1
Source
Purchased
Published by
Berkley Books
on April 3, 2007
Rating:

M.J., her partner Gilley, and their client, the wealthy, de-lish Dr. Steven Sable, are at his family's lodge, where his grandfather allegedly jumped to his death from the roof-although Sable says it was foul play. But the patriarch's isn't the only ghost around. The place is lousy with souls, all with something to get off their ghoulish chests. Now M.J. will have to to quell the clamor-and listen for a voice with the answers...
This is a book that was recommended to me by my sister.
This was a different book than what I usually read, but I would like to thank my sister for recommending it, because I liked it.
M.J. is able to sense the presence of ghosts, and to communicate with them. She uses this skill in a 'ghostbusting' business with her friend, Gilley, helping their spirits cross over to the other side (or trapping the more malevolent ones where they can't cause any more trouble). When they are approached by Dr. Steven Sable to investigate the ghostly presence at his recently-deceased grandfather's lodge, M.J. initially turns down the job, as Steven wants to tag along with M.J. and Gilley. However, they need the money that this job would bring, and M.J. reluctantly agrees.
The job is complicated by M.J.'s attraction to Steven, and his reciprocation. M.J. is not afraid of much, it seems, but she is not willing to take chances with her heart and so despite Steven's best efforts, she  puts any possibility of romance out of her mind.
Steven believes that the ghost of his grandfather is in the lodge. Although his grandfather's death was ruled a suicide, Steven refuses to believe it, and wants M.J. to get to the bottom of things. Along with Gilley, they travel up to the lodge and are greeted with some ghostly activity. M.J. determines that there is more than one spirit in the lodge, and when Steven's estranged father begins to appear around town, M.J. learns that there is more to Steven's request than there first seemed.
Overall, I enjoyed this book. Like I said, it's different than what I usually read, but it's good to branch out and try something different every now and then, and I'm glad I gave this book a chance. The book was just the right amount of spooky: not too scary, and not too tame. I also liked the mystery that was involved with Steven and his father, although it got a bit confusing at times, I have to admit.
I also liked the character of  M.J. She is tough when it comes to her job, which I admired, because I would be a major wimp in the situations that she ends up in! She seems tough on the outside, but she's also a good friend to Gilley and genuinely wants to help the spirits that she encounters to cross over.
Gilley was a funny character but there didn't seem to be too much to him. Other than M.J., there wasn't much depth to the rest of the characters. This didn't really interfere with the overall story, and the book was a fun read, but I always like to learn about the characters in my books. However, I know that this is the first book in a series, so I am hopeful that if I continue to read, I'll learn more about M.J. and the people in her life.
I would recommend this book if you're looking for a fun, spooky read.