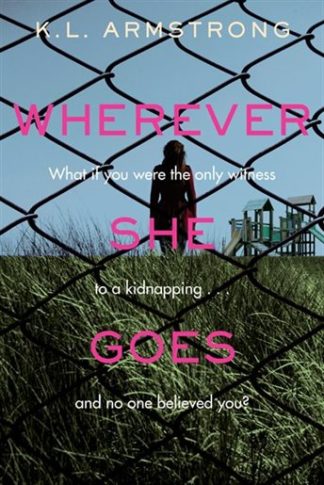 Wherever She Goes
By K.L. Armstrong Source
Received from the publisher
Published by
Doubleday Canada
on June 25, 2019
Received from the publisher in exchange for an honest review. This does not affect my opinion of the book or the content of my review.
Rating:

"Few crimes are reported as quickly as a snatched kid."

That's what the officer tells single mother Aubrey Finch after she reports a kidnapping. So why hasn't anyone reported the little boy missing? Aubrey knows what she saw: a boy being taken against his will from the park. It doesn't matter that the mother can't be found. It doesn't matter if no one reported it. Aubrey knows he's missing.

Instead, people question her sanity. Aubrey hears the whispers. She's a former stay-at-home mom who doesn't have primary custody of her daughter, so there must be something wrong with her, right? Others may not understand her decision to walk away from her safe life at home, but years of hiding her past – even from the people she loves – were taking their toll, and Aubrey knows she can't be the mother or wife she envisions until she learns to leave her secrets behind.

When the police refuse to believe her, she realizes that rescuing the boy is up to her alone. But after all the secrets, how far is she willing to go? Even to protect a child.
This was a really quick, easy read but for some reason it wasn't one that pulled me in emotionally. It was kind of interesting to see the way Aubrey went about her investigation, but I simply didn't connect with the characters or the story – which made it difficult to really enjoy the book.
At times, it felt like Aubrey encountered a problem but conveniently had the right skills to overcome it without much difficulty. Her past was slowly revealed to the reader, which was kind of interesting at times, but mostly seemed to serve as a way to explain Aubrey's ability to do things like hack computer systems.
I was also not pulled into her relationship with her ex-husband, or the central mystery of the story: was there really a missing kid and if there was, why was no one looking for him? This book felt, at times, like there was no there there. I was reading the words, but I really wasn't connecting with the characters or the story, and the whole thing felt kind of generic.
This was a fast-paced read, but not one that I really enjoyed, and likely not one that will stick with me. Unfortunately, this one just wasn't for me.