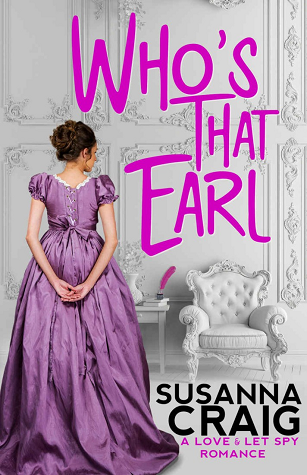 Who's That Earl
By Susanna Craig Series:
Love and Let Spy #1
Source
Purchased
Published by
Lyrical Press
on August 18, 2020
Rating:

Miss Jane Quayle excels at invention. How else could the sheltered daughter of an English gentleman create lurid gothic novels so infamous someone wants their author silenced forever? Fortunately, Jane has taken steps to protect herself, first by assuming a pen name, and second, by taking up residence at remote Dunnock Castle, surrounded by rugged scenery that might have been ripped from the pages of one of her books. Her true identity remains a secret, until one dark and stormy night...

After years of spying for the British army, Thomas Sutherland doubts the Highlands will ever feel like home again. Nevertheless, thanks to a quirk of Scottish inheritance law, he's now the Earl of Magnus, complete with a crumbling castle currently inhabited by a notorious novelist. When the writer turns out to be the woman Thomas once wooed, suspicions rise even as mutual sparks reignite. As danger closes in, can Jane and Thomas overcome their pasts to forge a future together?
I am always interested in stories about books or readers or writers, and the premise of this one grabbed my attention!
I loved Jane, and I appreciated that the story didn't take long getting her and Thomas in the same vicinity. At first I was really enjoying this and thought it was a cute, fun historical romance, but their reluctance to be honest with each other began to wear on me, because it would have avoided some of the misunderstandings that got in their way later on in the book.
I guess I'm also not a big fan of second chance romance, so that aspect of Thomas and Jane's relationship didn't do anything for me.
But the setting was fantastic and I did love getting the snippets of Jane's stories, and I loved Jane's attitude. There just didn't feel like there was enough going on story-wise for me.