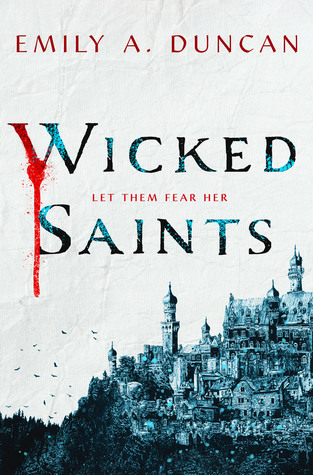 Wicked Saints
By Emily A. Duncan Series:
Something Dark and Holy #1
Source
Received from the publisher
Published by
Wednesday Books
on April 2, 2019
Received from the publisher in exchange for an honest review. This does not affect my opinion of the book or the content of my review.
Rating:

A girl who can speak to gods must save her people without destroying herself.

A prince in danger must decide who to trust.

A boy with a monstrous secret waits in the wings.

Together, they must assassinate the king and stop the war.

In a centuries-long war where beauty and brutality meet, their three paths entwine in a shadowy world of spilled blood and mysterious saints, where a forbidden romance threatens to tip the scales between dark and light. Wicked Saints is the thrilling start to Emily A. Duncan's devastatingly Gothic Something Dark and Holy trilogy.
I wanted to read Wicked Saints because it sounded like a dark YA fantasy, which I like, and the synopsis gave me Leigh Bardugo vibes (and I love her books).
I don't know why it took me so long to get into this. I know I was trying to read some library books before they were due back, but I also just struggled to feel pulled into this story. After the first couple of chapters, though, I got so into it! Wicked Saints is definitely a dark YA fantasy, and I'm here for it! I really liked the story and the world (although the world-building and different magic systems were a bit confusing for me to follow at first). Once I understood, I thought the magic system was really interesting.
There were some exciting scenes, and I liked the romance. And I loved that the story took a surprising turn once or twice. I loved all the main characters, but I think I was most interested in Serefin's story.
I definitely got Leigh Bardugo vibes as I read: there was a very similar dark, moody, tense atmosphere that reminded me of the way I felt reading the Six of Crows duology, so that was a definite plus for me.
Overall, I really enjoyed Wicked Saints and I'm definitely looking forward to the next book in the series. Recommended!