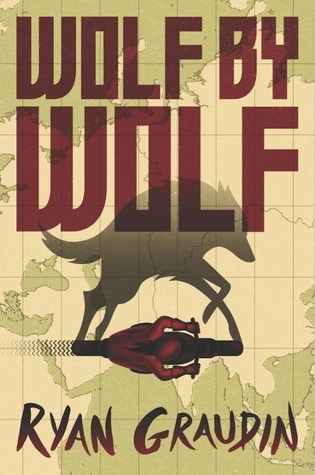 Wolf by Wolf
By Ryan Graudin Series:
Wolf by Wolf #1
Source
Purchased
Published by
Little, Brown Books for Young Readers
on October 20, 2015
Rating:

Cover image and summary from Goodreads:

Her story begins on a train.

The year is 1956, and the Axis powers of the Third Reich and Imperial Japan rule. To commemorate their Great Victory, Hitler and Emperor Hirohito host the Axis Tour: an annual motorcycle race across their conjoined continents. The victor is awarded an audience with the highly reclusive Adolf Hitler at the Victor's Ball in Tokyo.

Yael, a former death camp prisoner, has witnessed too much suffering, and the five wolves tattooed on her arm are a constant reminder of the loved ones she lost. The resistance has given Yael one goal: Win the race and kill Hitler. A survivor of painful human experimentation, Yael has the power to skinshift and must complete her mission by impersonating last year's only female racer, Adele Wolfe. This deception becomes more difficult when Felix, Adele twin's brother, and Luka, her former love interest, enter the race and watch Yael's every move.

But as Yael grows closer to the other competitors, can she bring herself to be as ruthless as she needs to be to avoid discovery and complete her mission?

From the author of The Walled City comes a fast-paced and innovative novel that will leave you breathless.
Wow this book! It had been on my TBR for some time, and then I bought a copy and it continued to sit on my shelf unread for months. But when I found myself reading two books and neither of them were really grabbing me, I decided to pick up Wolf By Wolf and finally get into it. And I'm so glad that I finally read it!
I loved the concept of this story, and although it took me some time to get through the first half of the book (due to holidays and travel, not because I wasn't enjoying or into the book!), I loved it. I flew through the last half, and was super tense and on the edge of my seat for those last few pages.
Like the author says in her note at the end of the book, I too think about "What if…?" and that is likely why I find alternate histories so fascinating. I also found the sci-fi aspect interesting (Yael's ability to skinshift) and somehow it blended perfectly with the rest of the book.
The story, the characters, the action – everything about this book had me pulled in right away. I'm really happy that this was the first book that I finished reading in 2017 because that means that my year in reading is off to a great start!
Before I had even finished reading, I ordered the sequel, Blood for Blood, and I just can't wait to find out what happens next!