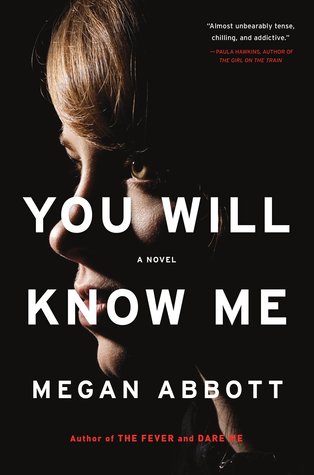 You Will Know Me
By Megan Abbott Source
Purchased
Published by
Little, Brown
on July 26, 2016
Rating:

Cover image and summary from Goodreads:

Katie and Eric Knox have dedicated their lives to their fifteen-year-old daughter Devon, a gymnastics prodigy and Olympic hopeful. But when a violent death rocks their close-knit gymnastics community just weeks before an all-important competition, everything the Knoxes have worked so hard for feels suddenly at risk. As rumors swirl among the other parents, revealing hidden plots and allegiances, Katie tries frantically to hold her family together while also finding herself drawn, irresistibly, to the crime itself, and the dark corners it threatens to illuminate. From a writer with "exceptional gifts for making nerves jangle and skin crawl," (Janet Maslin) You Will Know Me is a breathless rollercoaster of a novel about the desperate limits of desire, jealousy, and ambition.
I was really looking forward to this book. I've heard great things about it, and all of Megan Abbott's books, actually. I own a bunch of them but haven't read them – the only book of hers that I'd read before this was The End of Everything – and after reading The Flip Side, I felt like I was on a bit of a gymnastics kick.
However, this book is very different from The Flip Side! Where that was a fun, light YA read, You Will Know Me shows a much darker side of the gymnastics world: the parents of these amazing athletes, who are still children despite their power and ability, the coaches, the injuries, the commitment that is required of the gymnasts and their families. It also portrays a marriage that makes me think about all the ways you can know a person, while still not completely knowing them.
This wasn't as much of a mystery as I hoped, but it was a page-turner. I really enjoyed this book and didn't want to put it down. Recommended!