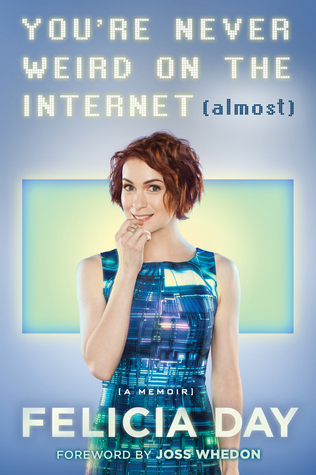 You're Never Weird on the Internet
By Felicia Day Source
Purchased
Published by
Touchstone
on August 11, 2015
Rating:

Cover image and summary from Goodreads:

From online entertainment mogul, actress, and "queen of the geeks" Felicia Day, a funny, quirky, and inspiring memoir about her unusual upbringing, her rise to Internet-stardom, and embracing her individuality to find success in Hollywood.

The Internet isn't all cat videos. There's also Felicia Day—violinist, filmmaker, Internet entrepreneur, compulsive gamer, hoagie specialist, and former lonely homeschooled girl who overcame her isolated childhood to become the ruler of a new world…or at least semi-influential in the world of Internet Geeks and Goodreads book clubs.

After growing up in the south where she was "homeschooled for hippie reasons", Felicia moved to Hollywood to pursue her dream of becoming an actress and was immediately typecast as a crazy cat-lady secretary. But Felicia's misadventures in Hollywood led her to produce her own web series, own her own production company, and become an Internet star.

Felicia's short-ish life and her rags-to-riches rise to Internet fame launched her career as one of the most influential creators in new media. Now, Felicia's strange world is filled with thoughts on creativity, video games, and a dash of mild feminist activism—just like her memoir.

Hilarious and inspirational, You're Never Weird on the Internet (Almost) is proof that everyone should embrace what makes them different and be brave enough to share it with the world, because anything is possible now—even for a digital misfit.
I'm a HUGE Felicia Day fan. Her webseries, The Guild, is excellent, and over the years she's appeared on some of my favourite televisions shows (Buffy the Vampire Slayer, Dollhouse, Supernatural). I also enjoy her Geek and Sundry channel. So when I heard that she was writing a book, I knew it was going to be a must-read.
There is so much that I never knew about Felicia Day in here. She had a super interesting childhood! Her upbringing was SO different from mine, which I think is why I found it so fascinating. And while she recounts her childhood with humour and affection, she's not afraid to make fun of herself. Some of the childhood pictures she shares in the book were so funny! I wouldn't be so brave with my childhood photos, but I appreciate that Felicia Day was not so shy.
However, once the subject matter turned to the creation of The Guild – the circumstances surrounding its creation, the way it was filmed on a minimal budget, the behind the scenes info – I was hooked and couldn't put the book down!
Aside from my interest in Felicia Day's projects and a behind the scenes look at her time working on shows, attending conventions, etc., I was really impressed with the way she shared so much of her personal life with the reader – particularly her experiences with GamerGate. Also, as someone who has experienced some of the other struggles that she has dealt with, it was really inspiring for me to read about her experiences and how she has made it through.
Felicia Day is someone I really admire and look up to, and her work has been really important to me and had an impact on my life. You're Never Weird on the Internet was one of my most-anticipated books this year, and I loved it with all my heart. Highly recommended!! Even if you haven't heard of Felicia Day before or are only slightly familiar with her work, I think there is a lot of humour and insight in the book for readers to enjoy.