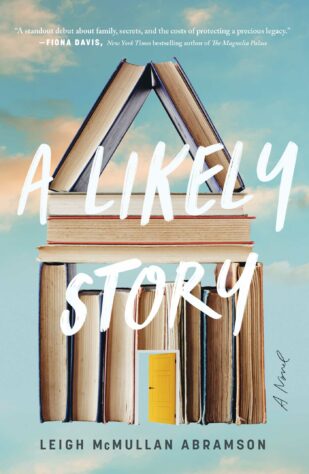 A Likely Story
By Leigh McMullan Abramson Source
Purchased
Published by
Atria Books
on March 14, 2023
Rating:

Growing up in the nineties in New York City as the only child of famous parents was both a blessing and a curse for Isabelle Manning. Her beautiful society hostess mother, Claire, and New York Times bestselling author father, Ward, were the city's intellectual It couple. Ward's glamorous obligations often took him away from Isabelle, but Claire made sure her childhood was always filled with magic and love.

Now an adult, all Isabelle wants is to be a successful writer like her father but after many false starts and the unexpected death of her mother, she faces her upcoming thirty-fifth birthday alone and on the verge of a breakdown. Her anxiety only skyrockets when she uncovers some shocking truths about her parents and begins wondering if everything she knew about her family was all based on an elaborate lie.

Wry, wise, and propulsive, A Likely Story is punctuated with fragments of a compulsively readable book-within-a-book about a woman determined to steal back the spotlight from a man who has cheated his way to the top. The characters seem eerily familiar but is the plot based on fact? And more importantly, who is the author?
I love books about books and writing, so this was high on my list of anticipated books this year!
I really enjoyed this, although as I read, nothing seemed very twisty or mysterious. I think the synopsis led me to believe there would be some element of mystery in terms of the book-within-a-book, and in my opinion there really wasn't.
But the story itself was interesting and I loved the writing, and I was invested in Isabelle and what the outcome would be. If you like books about books and writing and messy characters, I really liked this and recommend it!