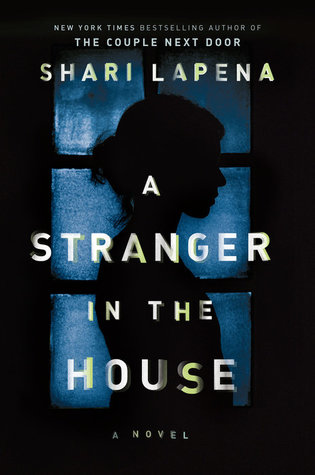 A Stranger In the House
By Shari Lapena Source
Received from the publisher
Published by
Doubleday Canada
on August 17, 2017
Received from the publisher in exchange for an honest review. This does not affect my opinion of the book or the content of my review.
Rating:

Cover image and synopsis from Goodreads:

In this neighborhood, danger lies close to home. A domestic thriller packed full of secrets, and a twisty story that never stops—from the bestselling author of The Couple Next Door

He looks at her, concerned. "How do you feel?" She wants to say, Terrified. Instead, she says, with a faint smile, "Glad to be home."

Karen and Tom Krupp are happy—they've got a lovely home in upstate New York, they're practically newlyweds, and they have no kids to interrupt their comfortable life together. But one day, Tom returns home to find Karen has vanished—her car's gone and it seems she left in a rush. She even left her purse—complete with phone and ID—behind.

There's a knock on the door—the police are there to take Tom to the hospital where his wife has been admitted. She had a car accident, and lost control as she sped through the worst part of town.

The accident has left Karen with a concussion and a few scrapes. Still, she's mostly okay—except that she can't remember what she was doing or where she was when she crashed. The cops think her memory loss is highly convenient, and they suspect she was up to no good.

Karen returns home with Tom, determined to heal and move on with her life. Then she realizes something's been moved. Something's not quite right. Someone's been in her house. And the police won't stop asking questions.

Because in this house, everyone's a stranger. Everyone has something they'd rather keep hidden. Something they might even kill to keep quiet.
I read and liked Shari Lapena's previous book, The Couple Next Door, so I was definitely interested in reading this next book of hers.
While I read this one very quickly, curious to know what happened, I didn't find it all that interesting overall. It was a quick, easy read, and somewhat entertaining, but I really feel like for all of its attempts to be twisty and unpredictable, this book was quite predictable in the end.
Now, perhaps that's because I read a lot of books, including certain mysteries and thrillers that got a lot of buzz and have many imitators – I won't name them but I'm sure you can guess which books I'm talking about – and which are used in the marketing for all kinds of mysteries and thrillers written by and/or about women. And compared to those other books, something like A Stranger In the House isn't as twisty or insightful.
It was a pleasant enough way to spend some reading time, however. It was an amusing yet predictable story, likely not one that will stick with me, but it may be a good pick for readers who loved The Couple Next Door.