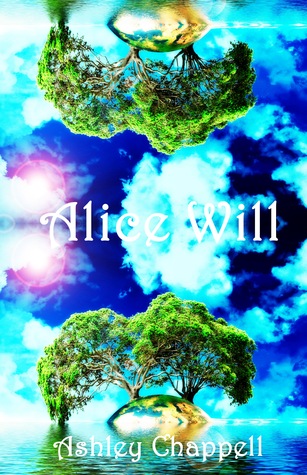 Alice Will
By Ashley Chappell Source
Received from TLC Book Tours
Published by
Center One Books
on November 13, 2012
Received from TLC Book Tours in exchange for an honest review. This does not affect my opinion of the book or the content of my review.
Rating:

Cover image and summary from Goodreads:

With her leaky powers and premature smiting problem, fourteen year-old Trotter was still just trying to get the hang of the demi-godding business when the apocalypse began. In a world where the gods have withdrawn from humanity, leaving mortals bitter toward magic, she finds herself torn between the human and the goddess in her. When the world begins to fade away and she becomes the prime suspect, her search to determine the cause and prove her innocence ends up revolving around a mysterious little girl named Alice. Then she discovers that not all of the gods had been as distant as they seemed...

Now, with everyone against her and the gods fighting amongst themselves, Trotter is on her own to save her world and stop a spiteful god from using Alice to destroy everything.
I really liked this book's premise. The story was entertaining and moved at a good pace (although sometimes it almost moved too quickly, leaving me confused). I liked the way the story shifted back and forth from Alice's story to Trotter's and then showed how the two were connected.
Alice was an interesting character, and I found myself wondering how she was able to do what she could do, and enjoyed the way that element of the story was revealed.
The characters felt somewhat underdeveloped to me, though. I didn't feel that I got to know them well, which made it difficult to feel any connection to them or emotional investment in the story. While Trotter and Alice were the main characters, I'd have liked to learn more about others, like Prowler (there were references to his past life as a human that intrigued me).
I have to say that Laramak, the villain, was intimidating and frightening, and I really liked the back-story and the tale of how he'd first been imprisoned.
The writing was good, and I appreciated the humour, as it balanced the more serious elements of the story.
Overall, although I didn't quite connect with the characters, this was in interesting, entertaining read.
You can find more about the author  on her website, Facebook, Twitter, and Pinterest.
See the full tour schedule below (some stops feature the sequel, Tilt):
Tuesday, March 04, 2014: Offbeat Vegabond – Alice Will
Thursday, March 06, 2014: A Book Geek – Alice Will
Sunday, March 09, 2014: Book Marks the Spot – Alice Will and Tilt
Thursday, March 13, 2014: Pingwing's Bookshelf – Alice Will
Friday, March 14, 2014: Bibliophilia, Please – Alice Will
Monday, March 17, 2014: Peeking Between the Pages – Alice Will
Tuesday, March 18, 2014: The Reader's Hollow – Alice Will
Tuesday, March 18, 2014: Diary of a Stay at Home Mom – Alice Will and Tilt
Wednesday, March 19, 2014: Books Without Any Pictures – Alice Will
Thursday, March 20, 2014: The Reader's Hollow – Tilt
Monday, March 24, 2014: Peeking Between the Pages – Tilt
Tuesday, March 25, 2014: A Dream Within a Dream – Alice Will and Tilt
Wednesday, March 26, 2014: Allodoxophobia: The Fear of Opinions – Alice Will and Tilt
Tuesday, April 01, 2014: Books, Books Everywhere! – Alice Will
Wednesday, April 02, 2014: Books, Books Everywhere! – Tilt
Wednesday, April 02, 2014: Hopelessly Devoted Bibliophile – Alice Will
Thursday, April 03, 2014: The Written World – Alice Will and Tilt