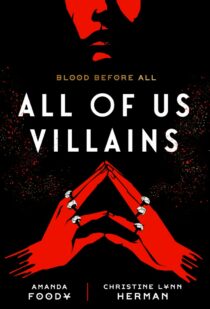 All Of Us Villains
By Amanda Foody, Christine Lynn Herman Series:
All Of Us Villains #1
Source
Received from the publisher
Published by
Tor Teen
on November 9, 2021
Received from the publisher in exchange for an honest review. This does not affect my opinion of the book or the content of my review.
Rating:

The Blood Moon rises. The Blood Veil falls. The Tournament begins.

Every generation, at the coming of the Blood Moon, seven families in the remote city of Ilvernath each name a champion to compete in a tournament to the death.

The prize? Exclusive control over a secret wellspring of high magick, the most powerful resource in the world--one thought long depleted.

This year, thanks to a salacious tell-all book, the seven champions are thrust into worldwide spotlight, granting each of them new information, new means to win, and most importantly: a choice - accept their fate or rewrite their story.

But this is a story that must be penned in blood.
I was really eager to read this book, because I was hearing a lot about it and seeing it on my bookish social media. It sounded like a dark, violent fantasy, which was something I was totally in the mood to read.
I struggled to really get into this one, though. While I thought the magic system was really interesting and loved reading about the spell crafting, I had a hard time getting invested in the characters. There are seven champions, and the story's narration rotated among four of them. For me, that was too many perspectives to try and keep track of at the same time as trying to understand the magic system and the world.
It also took its time getting to the tournament itself, which is what I really wanted to read about. But I think the thing that irked me the most was that the synopsis, marketing (which references The Hunger Games), and the title itself play up how villainous all of these characters are supposed to be, and some of the characters spent a lot of time talking about how monstrous they were, but when it came down to it, none of the champions seemed like villains to me (some of their families are a different story though!). I was expecting a book with some antiheroes or dark characters who I would love to hate or something, but once the tournament started everyone seemed reluctant to go on the offensive, despite all the big talk beforehand.
So once the tournament started, despite how excited I was to read that part, it felt sort of anticlimactic to me. I guess I had some misplaced expectations and was hoping for something darker, but this was still an interesting start to a series, and the ending intrigued me enough to keep the sequel on my radar when it comes out some time next year.