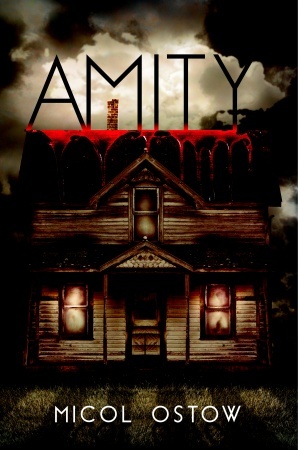 Amity
By Micol Ostow Source
Received from the publisher via Edelweiss
Published by
Egmont USA
on August 26, 2014
Received from the publisher via Edelweiss in exchange for an honest review. This does not affect my opinion of the book or the content of my review.
Rating:

Summary and cover image from Goodreads:

For fans of Stephen King and American Horror Story, a gruesome thriller suggested by the events of the Amityville Horror.

Inspired by a true-crime story of supernatural happenings and gory murders, Amity spans two generations and beyond to weave an overlapping, interconnected tale of terror, insanity, danger, and death.
This could be an entertaining read, if you like horror, although I found that this book contained more gore than legitimate scares.
I saw a couple of movie versions about the Amityville Horror, but I don't think you need to know any background information to read this book. I found it to be a really quick read, and read the bulk of it in one day.
While I was entertained, I didn't connect to the characters. I wasn't necessarily invested in what happened to them, but I was super curious to see how the story would end.
This is a recommended read for horror fans, but if you are squeamish, this might not be the book for you.