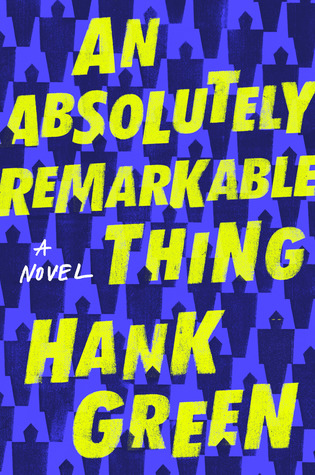 An Absolutely Remarkable Thing
By Hank Green Source
Received from the publisher
Published by
Dutton
on September 25, 2018
Received from the publisher in exchange for an honest review. This does not affect my opinion of the book or the content of my review.
Rating:

The Carls just appeared. Coming home from work at three a.m., twenty-three-year-old April May stumbles across a giant sculpture. Delighted by its appearance and craftsmanship--like a ten-foot-tall Transformer wearing a suit of samurai armor--April and her friend Andy make a video with it, which Andy uploads to YouTube. The next day April wakes up to a viral video and a new life. News quickly spreads that there are Carls in dozens of cities around the world--everywhere from Beijing to Buenos Aires--and April, as their first documentarian, finds herself at the center of an intense international media spotlight.

Now April has to deal with the pressure on her relationships, her identity, and her safety that this new position brings, all while being on the front lines of the quest to find out not just what the Carls are, but what they want from us.
I was really intrigued by this book when I first heard about it. When I received a copy from the publisher, I was excited to get into it.
I feel like I should preface my thoughts about this book by noting that I finished reading my most-anticipated book of 2018 right before I finished reading An Absolutely Remarkable Thing, and I was experiencing a major book hangover. I don't think anything I read after it could have held my interest too much in light of that reading experience, so while I wanted to love this book, I think part of the reason I couldn't totally get into it was because my mind kept wandering back to the book I'd just finished.
Anyway, An Absolutely Remarkable Thing was an interesting book. There was a lot going on, and I liked that I never knew what to expect or what would happen next. And I liked April May's voice, and I thought the book made some interesting points about social media, fame, and the media.
I never felt emotionally invested in the story or its characters though. The story was interesting but I didn't feel all that caught up in it. It was one of those books that I liked, but didn't love, and those are the most difficult books to review sometimes!
The ending felt a little abrupt but I believe that there is going to be a sequel, which I'd be interested in checking out.