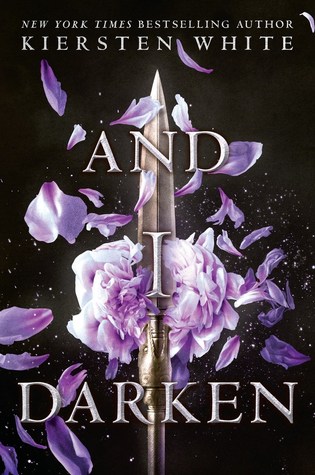 And I Darken
By Kiersten White Series:
The Conqueror's Saga #1
Source
Purchased
Published by
Delacorte Press
on June 28, 2016
Rating:

Cover image and synopsis from Goodreads:

No one expects a princess to be brutal. And Lada Dragwlya likes it that way. Ever since she and her gentle younger brother, Radu, were wrenched from their homeland of Wallachia and abandoned by their father to be raised in the Ottoman courts, Lada has known that being ruthless is the key to survival. She and Radu are doomed to act as pawns in a vicious game, an unseen sword hovering over their every move. For the lineage that makes them special also makes them targets.

Lada despises the Ottomans and bides her time, planning her vengeance for the day when she can return to Wallachia and claim her birthright. Radu longs only for a place where he feels safe. And when they meet Mehmed, the defiant and lonely son of the sultan, Radu feels that he's made a true friend—and Lada wonders if she's finally found someone worthy of her passion.

But Mehmed is heir to the very empire that Lada has sworn to fight against—and that Radu now considers home. Together, Lada, Radu, and Mehmed form a toxic triangle that strains the bonds of love and loyalty to the breaking point.
I was really looking forward to reading this book. I had heard very good things about it, and although I hadn't loved other books I'd read by this author, I had liked them enough that I was curious to check this one out. And the synopsis certainly sounded like my kind of book!
And I Darken was a really chunky book but it was the kind of story that I love to lose myself in. It felt sweeping and epic in scope, covering many years of Lada and Radu's lives.
Lada was a tough, feisty, intelligent, strong girl with firm beliefs and ambitions, and she was such a contract to her brother Radu. They were so different from each other, and I loved seeing the ways they each used their strengths to further their ambitions and to protect themselves, and each other, where possible.
This was a really great book, and I'm so glad that I have a copy of the second book, Now I Rise, because I can't wait to see what happens next.