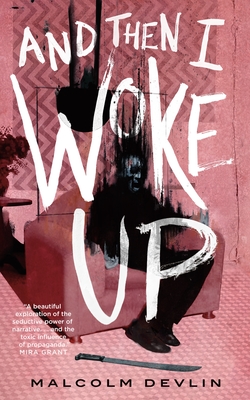 And Then I Woke Up
By Malcolm Devlin Source
Purchased
Published by
Tor
on April 12, 2022
Rating:

In a world reeling from an unusual plague, monsters lurk in the streets while terrified survivors arm themselves and roam the countryside in packs. Or perhaps something very different is happening. When a disease affects how reality is perceived, it's hard to be certain of anything…

Spence is one of the "cured" living at the Ironside rehabilitation facility. Haunted by guilt, he refuses to face the changed world until a new inmate challenges him to help her find her old crew. But if he can't tell the truth from the lies, how will he know if he has earned the redemption he dreams of? How will he know he hasn't just made things worse?
First of all, I love that cover. It's so eye-catching, and once I read the book I realized it also depicts a key moment of a character's story, which made me love it even more.
This was a really interesting novella, ostensibly about a zombie outbreak but which is really about something else (I won't spoil it, although it becomes clear quite early on). I wouldn't say it's a horror story but rather that it's a commentary on truth, media, and perception.
I initially rated this 3.5 stars out of 5, but after I realized I'd been thinking about it a lot in the days after I finished reading, I bumped that up to 4 stars. The way it uses concepts of narrative and story to depict the dangers inherent in today's polarized kind of world was really effective, without being too specific or heavy-handed. I quite enjoyed this.