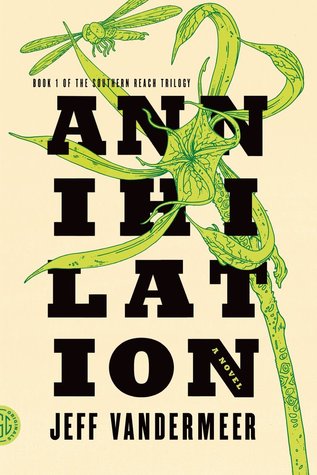 Annihilation
By Jeff VanderMeer Series:
The Southern Reach Trilogy #1
Source
Purchased
Published by
FSG Originals
on February 4, 2014
Rating:

Cover image and summary from Goodreads:

Area X has been cut off from the rest of the continent for decades. Nature has reclaimed the last vestiges of human civilization. The first expedition returned with reports of a pristine, Edenic landscape; all the members of the second expedition committed suicide; the third expedition died in a hail of gunfire as its members turned on one another; the members of the eleventh expedition returned as shadows of their former selves, and within months of their return, all had died of aggressive cancer.

This is the twelfth expedition.

Their group is made up of four women: an anthropologist; a surveyor; a psychologist, the de facto leader; and our narrator, a biologist. Their mission is to map the terrain and collect specimens; to record all their observations, scientific and otherwise, of their surroundings and of one another; and, above all, to avoid being contaminated by Area X itself.

They arrive expecting the unexpected, and Area X delivers—they discover a massive topographic anomaly and life forms that surpass understanding—but it's the surprises that came across the border with them, and the secrets the expedition members are keeping from one another, that change everything.
I bought all of the books in this series after reading about it on the Book Riot site. The small size of this first book – under 200 pages – made it a perfect choice to read on the train back from my Christmas travels.
Right away, I loved the premise and the writing. The mystery of Area X was so tantalizing and intriguing, and the story moved along so well. I read the entire book on the first part of my train ride home.
I loved the tension and how unsettling this book was, even if it seemed like nothing frightening was happening. This was a terrific mix of psychological thriller and science fiction, and as soon as I got home, I grabbed book two, Authority, off my shelf to see what happened next. Highly recommended!