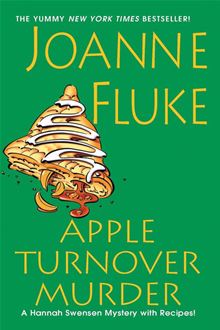 Apple Turnover Murder
By Joanne Fluke Series:
Hannah Swenson #13
Source
Purchased
Published by
Kensington Publishing Corporation
on February 1, 2010
Rating:

Early summer brings plenty of work for baker Hannah Swensen, even before Mayor Bascomb's wife drops by The Cookie Jar to place an order for her charity event...For eleven-hundred cookies! And Hannah almost flips when her business partner, Lisa, suggests setting up an apple turnover stand. But she places her faith in Lisa and agrees to be a magician's assistant in the fundraiser's talent show. The only snag is the show's host, college professor Bradford Ramsey. Hannah and her sister, Michelle, each had unfortunate romances with Ramsey, and when the cad comes sniffing around between acts, Hannah tells him off. But when the curtain doesn't go up, she discovers Ramsey backstage - dead, with a turnover in his hand. Now Hannah must find a killer who's flakier than puff pastry - and far more dangerous.
This is the 13th book in the Hannah Swenson series.
This was another fun, easy read in the Hannah Swenson series. It's summer and the mayor's wife needs about a billion cookies for a fundraiser, and Hannah's partner, Lisa, also suggests that they provide apple turnovers for the event. Hannah is understandably stressed about that, and on top of it all, she agrees to assist Herb, Lisa's assistant, with his magic act for the fundraiser's talent show.
Then Hannah finds out that Bradford Ramsey is hosting the fundraiser. If you've read other books in this series, you know that Bradford Ramsey is the professor that Hannah was in love with back when she was in college. He made a brief appearance in some recent books in this series, but this is the first one where he and Hannah interact and he makes reference to their past. Hannah discovers that Michelle, her younger sister who is home from college, has had a similar romance with Professor Ramsey and confronts him about it. Moments later, Hannah discovers his dead body. Time to begin her investigation!
I think this is the first time reading this series where I figured out who the killer would be and what the motive would be before the victim was even killed. I saw it coming a mile away, but Hannah's investigation was still pretty interesting. There were quite a few viable suspects, but in the end, my suspicions were confirmed. This is also the first time in the series where Mike, Hannah's police officer boyfriend, seemed to actively seek her assistance with the investigation, rather than try to discourage her from getting involved.
Hannah's other boyfriend, Norman, was out-of-town meeting old friends from dental school and then mysteriously distant from Hannah when he returned. There was a bit of a bombshell from Norman at the end of the book, which definitely has me looking for the next book to read! The love triangle this time around definitely had a lot less love! Both Mike and Norman seemed as if they were pulling away from Hannah, which was a bit upsetting, considering they both proposed to her a few books  back and continue to profess their love for her. I'll have to read on to see what happens next with Hannah's love life.
There was also an interesting subplot involving Hannah's sister, Andrea, and her husband Bill, the town's sheriff. It appears that a major security company is trying to recruit him for a position in Florida, and Andrea is distraught at the thought of having to move away from Lake Eden and leave her friends and family. It looks like this storyline will be continued in the next book, as well.
I like the way the author has developed some storylines that seem as though they will carry over into future books. The early books in the series seemed pretty stand-alone, but that has changed with the past few books, which feels like a nice reward for sticking with a long-running series. I can't wait to see what happens next with Hannah's love life, Norman's big news (which I won't spoil), and Bill's job situation. This is a must read if you're a Hannah Swenson fan.