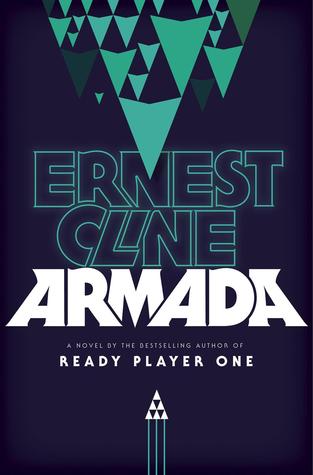 Armada
By Ernest Cline Source
Purchased
Published by
Crown Publishing
on July 14, 2015
Rating:

Cover image and summary from Goodreads:

Zack Lightman has spent his life dreaming. Dreaming that the real world could be a little more like the countless science-fiction books, movies, and videogames he's spent his life consuming. Dreaming that one day, some fantastic, world-altering event will shatter the monotony of his humdrum existence and whisk him off on some grand space-faring adventure.

But hey, there's nothing wrong with a little escapism, right? After all, Zack tells himself, he knows the difference between fantasy and reality. He knows that here in the real world, aimless teenage gamers with anger issues don't get chosen to save the universe.

And then he sees the flying saucer.

Even stranger, the alien ship he's staring at is straight out of the videogame he plays every night, a hugely popular online flight simulator called Armada—in which gamers just happen to be protecting the earth from alien invaders.

No, Zack hasn't lost his mind. As impossible as it seems, what he's seeing is all too real. And his skills—as well as those of millions of gamers across the world—are going to be needed to save the earth from what's about to befall it.

It's Zack's chance, at last, to play the hero. But even through the terror and exhilaration, he can't help thinking back to all those science-fiction stories he grew up with, and wondering: Doesn't something about this scenario seem a little…familiar?

At once gleefully embracing and brilliantly subverting science-fiction conventions as only Ernest Cline could, Armada is a rollicking, surprising thriller, a classic coming of age adventure, and an alien invasion tale like nothing you've ever read before—one whose every page is infused with the pop-culture savvy that has helped make Ready Player One a phenomenon.
Ernest Cline's Ready Player One is one of my favourite books, and I've been waiting for him to write something else that I'd love just as much.
I love video games, so the synopsis for Armada made me feel like this would be my kind of book. And given my love for Ready Player One, I must admit that my expectations going into Armada were high. TOO high.
I generally enjoyed this book. The first third felt really slow, but things definitely picked up after that. And the story was fun. But I think the uneven pacing contributed to my total lack of emotional connection. I never felt like I got to know characters enough to really care about them, so by the end when stakes were life and death and I'm sure that I was supposed to be feeling tense and concerned about various characters' fates, I really wasn't. It felt like I was reading with interest, but in a very emotionally detached way.
Ready Player One pulled me in right away and I loved nearly everything about it. And I couldn't help but expect to feel the same about Armada when I picked it up. I'm glad that I did like this book, but nowhere near as much as I like Ready Player One.
Armada was still a fun read – after the first chunk that was kind of tedious – and I was definitely interested in the outcome. And I loved the video game and pop culture reference. But the pacing didn't feel right – the beginning was a bit of a slog to get through and then the ending felt rushed. I had zero emotional investment, and I'm still not sure how I feel about the ending.
Recommended for interested readers, but if you're looking for fun, adventurous, exciting science fiction and you haven't read Ready Player One yet, I have to recommend reading that! Of course, I've seen some quite favourable reviews of Armada, and this is just my opinion. I'd love to hear from others who've read Armada!