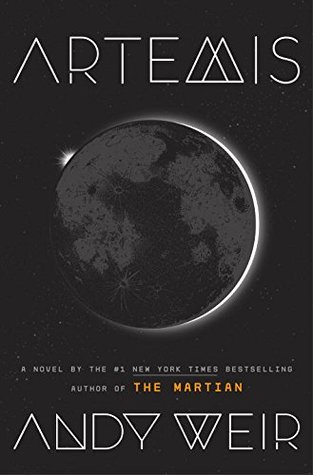 Artemis
By Andy Weir Source
Received from the publisher
Published by
Crown Publishing Group
on November 14, 2017
Received from the publisher in exchange for an honest review. This does not affect my opinion of the book or the content of my review.
Rating:

Cover image and synopsis from Goodreads:

Jazz Bashara is a criminal.

Well, sort of. Life on Artemis, the first and only city on the moon, is tough if you're not a rich tourist or an eccentric billionaire. So smuggling in the occasional harmless bit of contraband barely counts, right? Not when you've got debts to pay and your job as a porter barely covers the rent.

Everything changes when Jazz sees the chance to commit the perfect crime, with a reward too lucrative to turn down. But pulling off the impossible is just the start of her problems, as she learns that she's stepped square into a conspiracy for control of Artemis itself—and that now, her only chance at survival lies in a gambit even riskier than the first.
I loved The Martian when I read it a couple of years ago, so when I heard about Andy Weir's new book Artemis, it jumped up to the top of my anticipated reads for 2017. And I so wanted to love this book, I really did.
The premise was great and the setting seemed really cool. But the rest of it – writing, characters, pacing – missed the mark for me, sadly.
While I loved the science in The Martian, in Artemis it felt clumsily inserted and interrupted the flow of the story. And while the survival aspect of The Martian made the scientific explanations feel necessary and organic to the story, it didn't work the same way for me in this book.
I also struggled with the characters. They felt really flat to me. And while I appreciate that Andy Weir wrote a female protagonist, there was something I found off about it. I kept thinking it was jarring or just not genuine, the way I felt like he kept hitting me over the head with the fact that he wrote a female character by, for example, talking about her boobs so much. It made me cringe. I saw someone mention that it felt like Mark Watney (the protagonist in The Martian) transported into a female body and I kind of agree.
By the end, finishing this book became tedious. I wasn't all that interested in what was happening or how Jazz would get out of yet another bad situation, and I just wanted to finish so that I could move on from the book. Honestly, it felt like Andy Weir kept setting up one crisis after another, in place of an actual plot, and I lost interest really quickly.
I really really wanted to like this book more than I did, but I'm still interested in what Andy Weir may write next.