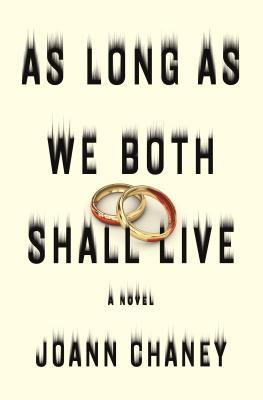 As Long As We Both Shall Live
By JoAnn Chaney Source
Purchased
Published by
Flatiron Books
on January 15, 2019
Rating:

"My wife! I think she's dead!" Matt frantically tells park rangers that he and his wife, Marie, were hiking when she fell off a cliff into the raging river below. They start a search, but they aren't hopeful: no one could have survived that fall. It was a tragic accident.

But Matt's first wife also died in suspicious circumstances. And when the police pull a body out of the river, they have a lot more questions for Matt.

Detectives Loren and Spengler want to know if Matt is a grieving, twice-unlucky husband or a cold-blooded murderer. They dig into the couple's lives to see what they can unearth. And they find that love's got teeth, it's got claws, and once it hitches you to a person, it's tough to rip yourself free.

So what happens when you're done making it work?
I was so excited to read this book because I loved JoAnn Chaney's first book, What You Don't Know. And I heard really great things about this book before it came out, so I made sure to pre-order the ebook so I could start reading it as soon as possible on release day!
I posted about the book on Litsy and Instagram when I finished, saying that it was a wild, dark, gripping story about love and marriage. It was an unputdownable, entertaining, satisfying book that I finished in two days.
JoAnn Chaney is now one of my favourite authors, and I will eagerly read whatever she writes next! If you haven't read either of her books, I highly recommend that you pick them both up! What You Don't Know has slightly edged out As Long As We Both Shall Live as my favourite of hers, but if you like mysteries and thrillers, you'll be satisfied with whichever one you read first!
I have so many things I want to say about it, but it would be very spoilery, so I'll hold off for now, but if you've read it, let me know! This will be a very fun one to discuss with others.