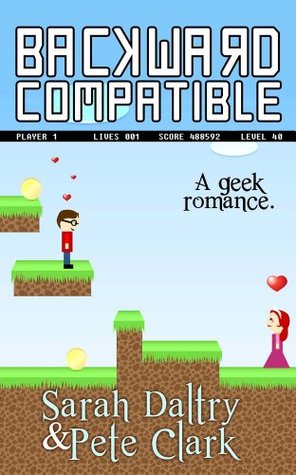 Backward Compatible
By Sarah Daltry and Pete Clark Source
Received from the publisher via Netgalley
Published by
SDE Press
on January 7, 2014
Received from the publisher via Netgalley in exchange for an honest review. This does not affect my opinion of the book or the content of my review.
Rating:

Cover image and synopsis from Goodreads:

A YA Gamer Geek Comedy in the vein of Scott Pilgrim and Nick and Norah's Infinite Playlist. Ideal for fans of The Big Bang Theory, The Guild, and all things Joss Whedon.

WARNING: There is no sex in this book. Your Kindle or other device will remain at a pleasant room temperature. At no point will your panties drop. Your significant other will be allowed to snore in peace as you read. You may, however, laugh yourself out of commission.

Not too long ago, in a town that, depending on your current location, is either not super far or actually quite close... (insert Star Wars theme music here...)

It is a time of chaotic hormones.

Two nerdy gents home for winter break have discovered a female gamer at a midnight release.

During the break, the gamer trio manages to reveal the game's secret boss, a hidden enemy with enough power to destroy anything in its path.

Pursued by other gamers who want to be the first to beat this boss, George and Katie race to level up, and, in so doing, restore decency and sexual activity to their personal galaxy...
As a fan of Joss Whedon, The Big Bang Theory, and especially The Guild, as soon as I read the synopsis, I knew that this would be my kind of book.
This was a really funny, quirky, quick read. As a video game lover, I found myself cracking up at the references to various video games (and movies and TV shows) throughout the book. If you're a gamer, you'll enjoy these references! If you aren't a gamer or are not familiar with video games, you may not catch the references or the jokes, and the authors don't really explain the references they make either. There were some that I didn't get, and it seems to me that as a reader, you'll either understand them or you won't. I think the authors expect that the readers will have some familiarity with the video game / geek world, and if you do, I think you'll enjoy this book.
First of all, it was funny. I had a smile on my face pretty much the entire time that I read it. It was also a fun story that was easy to read, and so I was able to get through it fairly quickly.
I enjoyed the alternating perspectives, switching between George and Katie. I loved that they saw some situations so differently! The characters were likeable and funny and geeky, and I absolutely loved reading about them all teaming up to tackle an epic quest in their game.
I didn't feel that the book went very deep, but it was definitely a fun read. I recommend this if you're looking for something funny, geeky, and with a happy ending.