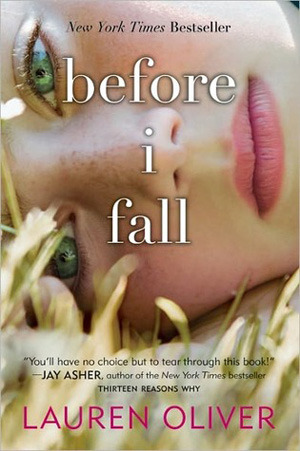 Before I Fall
By Lauren Oliver Source
Purchased
Published by
HarperCollins
on October 25, 2010
Rating:

Cover image and synopsis from Goodreads:

For popular high school senior Samantha Kingston, February 12—"Cupid Day"—should be one big party, a day of valentines and roses and the privileges that come with being at the top of the social pyramid. And it is…until she dies in a terrible accident that night.

However, she still wakes up the next morning. In fact, Sam lives the last day of her life seven times, until she realizes that by making even the slightest changes, she may hold more power than she ever imagined.
I cannot recommend this book more. It really stayed with me after I finished reading. In fact, it was good that I read the whole thing in one day. I just could not put it down.
This is one of those books that I think is better to read if you know as little as possible about the story. Sam ends up living the same day over and over, conscious that she is in her own sort of Groundhog Day-style situation.
I liked the way Sam tried to change things, a little differently each 'day'. What she ultimately realizes and chooses to do is something that I think each reader should find out for him/herself, so I won't give it away. However, this book did make me think about what I would want to do or change if I knew I had one day to live – and then wonder why I don't do or change those things now.
I think this story would have worked very well as a non-young adult fiction novel, but I'm really glad that it's young adult, with characters in high school, because I think high school is a time that a lot of us look back on and think that we might have chosen to be different, if we'd known then what we know now. It's almost like I was living vicariously through Sam at some points in this book.
I also think that the book's message is one that would be good for current high school students to read. Sam and her friends are pretty and popular, and like most popular girls in novels, they are not always very nice. By living her last day over and over, Sam begins to see things differently and I hope that young people reading this book would come to see things the way Sam does as well.
Overall, I strongly recommend this book. I wish I could talk some more about the plot but I really don't want to give anything away! If you've read it, let me know what you thought about it in the comments!