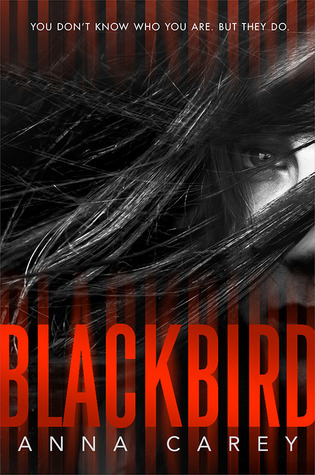 Blackbird
By Anna Carey Series:
Blackbird Duology #1
Source
Received from the publisher at BEA
Published by
HarperTeen
on September 16, 2014
Received from the publisher at BEA in exchange for an honest review. This does not affect my opinion of the book or the content of my review.
Rating:

Cover image and summary from Goodreads:

This twisty, breathless cat-and-mouse thrill ride, told in the second person, follows a girl with amnesia in present-day Los Angeles who is being pursued by mysterious and terrifying assailants.

A girl wakes up on the train tracks, a subway car barreling down on her. With only minutes to react, she hunches down and the train speeds over her. She doesn't remember her name, where she is, or how she got there. She has a tattoo on the inside of her right wrist of a blackbird inside a box, letters and numbers printed just below: FNV02198. There is only one thing she knows for sure: people are trying to kill her.

On the run for her life, she tries to untangle who she is and what happened to the girl she used to be. Nothing and no one are what they appear to be. But the truth is more disturbing than she ever imagined.

The Maze Runner series meets Code Name Verity, Blackbird is relentless and action-packed, filled with surprising twists.
I was intrigued by this book because of the premise. It all sounded so mysterious! I was also curious about the second-person narration. It seemed like a tricky thing to pull off but I wanted to see how it worked.
I actually liked the narration style. It seemed to fit really well with the story, since our narrator had no idea who she was, where she came from, or why people were after her. The downside to all of that, though, was that I didn't know who she was either. She had some fighting skills, but that didn't tell me anything about who she was, which left me interested in her story but emotionally detached from her. In fact, I felt the same way about the rest of the book's characters.
Despite the exciting premise, the book was a slow read for me. Once I learned why people were after the narrator, my interest in the book picked up. I won't spoil it, but it surprised me and then really intrigued me! However, once that initial excitement was over, I felt that the book was once again slow and not as exciting as it should have been, given the premise. From time to time, the author would throw in a brief chapter featuring someone other than the main character, and once again my interest would be piqued.
The ending of Blackbird definitely has me curious enough about the story to read the sequel, despite my lukewarm feelings about the rest of the book.