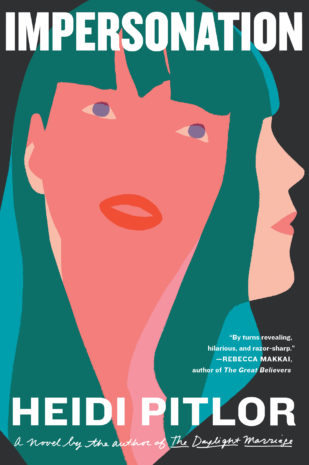 Impersonation
By Heidi Pitlor Source
Received from the publisher
Published by
Algonquin Books
on August 18, 2020
Received from the publisher in exchange for an honest review. This does not affect my opinion of the book or the content of my review.
Rating:

Allie Lang is a professional ghostwriter and a perpetually broke single mother to a young boy. Years of navigating her own and America's cultural definitions of motherhood have left her a lapsed idealist. Lana Breban is a powerhouse lawyer, economist, and advocate for women's rights with designs on elected office. She also has a son. Lana and her staff have decided she needs help softening her public image and that a memoir about her life as a mother will help.

When Allie lands the job as Lana's ghostwriter, it seems as if things will finally go Allie's way. At last, she thinks, there will be enough money not just to pay her bills but to actually buy a house. After years of working as a ghostwriter for other celebrities, Allie believes she knows the drill: she has learned how to inhabit the lives of others and tell their stories better than they can.

But this time, everything becomes more complicated. Allie's childcare arrangements unravel; she falls behind on her rent; her subject, Lana, is better at critiquing than actually providing material; and Allie's boyfriend decides to go on a road trip toward self-discovery. But as a writer for hire, Allie has gotten too used to being accommodating. At what point will she speak up for all that she deserves?

A satirical, incisive snapshot of how so many of us now live, Impersonation tells a timely, insightful, and bitingly funny story of ambition, motherhood, and class.
Today I'm participating in the blog tour for Heidi Pitlor's Impersonation from Algonquin Books (thank you for the advanced digital review copy!). Read on to see why I enjoyed this on!
This was such an intriguing story. I was at first drawn in because I was so fascinated by Allie's ghostwriting and seeing what that writing process was like. 
This was also a complex story encompassing relationships, politics, parenting, and feminism. While Allie was raising her son as a single parent, at times depending on friends and neighbours to help look after him, Lana was making speeches and getting media attention for her bold feminism and policies purported to help mothers, like Allie. Yet as the work on the book progressed, it became more and more clear to me that Allie was not getting any helpful, informative input from Lana, and she began to include parts of her own life in her sample chapters.
One aspect of the book that really made an impression on me was the difference between the resources available to Allie and to Lana as parents. This quote from the author Heidi Pitlor, taken from the press release provided by the publisher, really illustrates it for me:
"When I was first an acquiring editor and later a part-time freelance editor with young twins and a teacher husband, things got pretty tight for us. I found myself shuttling between some fabulous work lunch at the Four Seasons with a well-known writer and a dinner of Kraft mac n' cheese with my family. Twin diapers and daycare do not come cheap. When some more financially comfortable friend mentioned an upcoming eco-conscious vacation or their locally made toys, I grew frankly jealous, well aware that this was a first-world trouble. Still, I began to wonder if living according to certain ideals was only possible for the economically privileged."

Heidi Pitlor, Impersonation press release provided by Algonquin Books
The last line of that quote, in particular, gets at something that I was thinking about while reading this book but couldn't quite put into words. For example, I was uncomfortable and frustrated that Allie was struggling to find safe and affordable childcare while Lana appeared to have full-time, live-in help – and Lana was the one who's name would be on the book about motherhood, a book which seemed more and more to be taking the shape of Allie's memories and stories.
This feeling of disconnect between Allie and Lana took hold early on for me and the more Allie drew on her own experiences while writing the book, the more nervous I became, because I was certain that things were somehow going to come to a head. I was so tense leading up to the end!
But there are no easy answers or tidy solutions in this book, which was both frustrating and real. And given the current political climate, I think this was an especially timely, thought-provoking read.
My mind has wandered back to Impersonation several times since I finished. Recommended.