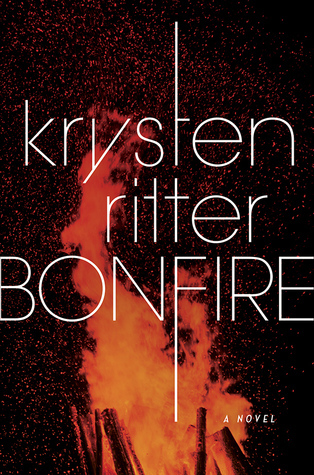 Bonfire
By Krysten Ritter Source
Borrowed ARC
Published by
Hutchinson
on November 9, 2017
Rating:

Cover image and synopsis from Goodreads:

It has been ten years since Abby Williams left home and scrubbed away all visible evidence of her small town roots. Now working as an environmental lawyer in Chicago, she has a thriving career, a modern apartment, and her pick of meaningless one-night stands.

But when a new case takes her back home to Barrens, Indiana, the life Abby painstakingly created begins to crack. Tasked with investigating Optimal Plastics, the town's most high-profile company and economic heart, Abby begins to find strange connections to Barrens' biggest scandal from more than a decade ago involving the popular Kaycee Mitchell and her closest friends—just before Kaycee disappeared for good.

Abby knows the key to solving any case lies in the weak spots, the unanswered questions. But as Abby tries to find out what really happened to Kaycee, she unearths an even more disturbing secret—a ritual called "The Game," which will threaten the reputations, and lives, of the community and risk exposing a darkness that may consume her.

With tantalizing twists, slow-burning suspense, and a remote, rural town of just five claustrophobic miles, Bonfire is a dark exploration of the question: can you ever outrun your past?
I was really excited to read this book! I'm a big Krysten Ritter fan, and when I heard that she had a book coming out, I knew that I would be checking it out. Then I read the synopsis and was even more excited to read it, because it sounded like it was going to be my kind of book: a dark, twisty legal thriller/mystery.
I borrowed a friend's ARC and read this in a little over a day. I was so curious to know what really happened with Kaycee, as well as what was going on with the town's water.
While I liked the writing and found it very atmospheric, I feel like the book ended up not quite a legal thriller, not quite a twisty mystery. It seemed like it wanted to be both of those things, but for me, it never quite got there. However, the way Krysten Ritter created a mood and described this small town was really effective, and I liked how she showed glimpses of the town's darkness. I could definitely understand why Abby wanted to get out of there.
I'm definitely interested in reading more from Krysten Ritter. Recommended.