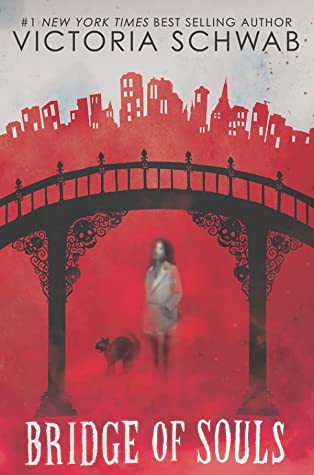 Bridge Of Souls
By Victoria Schwab Series:
Cassidy Blake #3
Source
Library
Published by
Scholastic Press
on March 2, 2021
Rating:

Where there are ghosts, Cassidy Blake follows ... unless it's the other way around?

Cass thinks she might have this ghost-hunting thing down. After all, she and her ghost best friend, Jacob, have survived two haunted cities while travelling for her parents' TV show.

But nothing can prepare Cass for New Orleans, which wears all of its hauntings on its sleeve. In a city of ghost tours and tombs, raucous music and all kinds of magic, Cass could get lost in all the colourful, grisly local legends. And the city's biggest surprise is a foe Cass never expected to face: a servant of Death itself.

Cass takes on her most dangerous challenge yet...
I love this series and was so looking forward to reading the next part of Cassidy's story. This was another great read, and possibly my favourite in the series so far.
I loved the setting! Reading about Cassidy's journey around New Orleans was fun, and definitely spooky! And speaking of spooky, I think this book had some of the creepiest and haunting moments in the entire series, and I loved them (but as I have previously pointed out, this is a middle grade series so even though it's a little spooky, it is written for a younger audience).
I loved seeing Cassidy's friend Lara again, and getting more of Jacob and Cassidy's friendship. But the stakes were so high in this book that I was really nervous for Jacob, and I was pretty tense as I read on. This book gave me a sense of the bigger picture in terms of the Veil and what lays beyond, and I liked getting the sense of Cassidy being just a small part of something bigger.
I really loved this book, and while I'm satisfied if this is the end of the series, I would absolutely read more stories set in this world! Recommended!